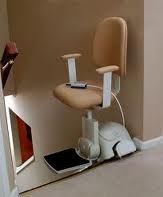 I can now enjoy my entire home with the wonderful products I purchased from Better Life.
San Diego, CA (PRWEB) July 28, 2011
Most people don't give a second thought to enjoying the comforts and conveniences of their home. But for people who are disabled, a typical home layout can be challenging, from getting up and down the stairs to simply using the bathroom. With a few home mobility adjustments by Better Life Mobility Centers, you should be able to fully enjoy your home with ease.
Here are five essential home mobility products and customizations to consider:
1. Bathtub or Shower Adjustments
A steamy bath or shower is not only an essential part of life, but it can help people forget the stresses of everyday life -- especially if it's easy to get in and out of without worry or assistance. In addition to sturdy handrails and nonslip surfaces, make their bathtub or shower more fully accessible with:

A Folding Mesh Bath Seat: A folding mesh bath seat or shower chair, such as the one from Moen, is lightweight, nonskid, and dries and stores easily. It also has a handheld shower holder that fits standard handheld showers.
A Bath Lift: A padded, reclinable bath lift, such as the Bellavita Bath Lift, can help people sink into a warm tub of bathwater independently. Be sure their lift is easy to install and operate and the controls are waterproof and float.
2. Lift Chairs
If you have trouble standing on your own, consider a lift chair. Today's chair designs are much more attractive than the lift chairs of the past. Pride lift chairs, for example, not only help people with limited mobility stand up, but are also beautiful, comfortable, and come in a variety of fabrics.
3. Platform/Porch Lifts
With the use of a platform lift (sometimes referred to as a porch lift), people have easy access to any elevated landing in or around their home. A platform lift such as the Bruno Vertical Platform is rugged and dependable and can lift people up to a raised deck or porch outside.
4. Stair Lifts
Does the person have stairs inside their home? A stair lift, like the Bruno Stair Lift, can raise or
lower them smoothly to the next floor or landing. This particular stair lift has a weight capacity of 350 pounds, and uses 12-volt batteries -- good thing in the event of an electrical outage. When they are not using the lift, the arms and footrests fold up and out of the way of other people using the stairs.
5.Ceiling Lifts
Ceiling lifts are indispensable accessibility tools for people who need assistance transferring safely from bed, a chair, or the floor to your wheelchair. The variety of slings available provides a safe solution for virtually everyone. Without pulling, tugging, or struggling, a person can transfer from one area to another with dignity.
Need help customizing a home for optimal mobility? The friendly staff at Better Life Mobility Centers in California and Nevada can help people identify mobility solutions, compare brands, and find the home mobility solution that fits their budget. Whether they need a chair lift, a stair lift, or any other mobility device, people can count on Better Life Mobility to help them live a life without limitations.
ABOUT BETTER LIFE MOBILITY
A family-owned business, Better Life Mobility is a leading California-based retailer of full size vans, minivans, trucks and luxury vehicles as well as scooters, wheelchairs, lifts and ramps for the mobility market. Founded in 1997 in Riverside, California, the family-owned company has since expanded to include stores in San Diego and Las Vegas.
Today, the company continues to grow based on two philosophies: 1.) that people, not profit, are the key to success and 2.) that people with disabilities deserve a better life, a life without limitations. For more information, call Mo Abusham at (619) 474-4072 or visit http://www.betterlifemobility.com.
###