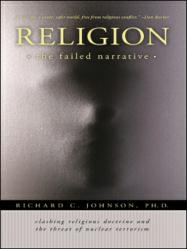 Tucson, AZ (PRWEB) July 28, 2011
Just two months into 2011, the world is seeing escalating conflicts that are making history across the globe, challenging and changing long-held beliefs and uniting like-minded people in a common cause. While some of these upheavals are politically motivated, religious conflict is an undeniable factor in the recent uprisings seen in Tunisia, Egypt, Yemen, Bahrain and Libya, with more countries on the brink of their own revolutions. What better time to reexamine the role of religion as a catalyst for thousands of years of war, violence and injustice than now? Here with a particularly relevant new treatise is Richard C. Johnson, PhD with his new nonfiction, Religion: The Failed Narrative Clashing Religious Doctrine and the Threat of Nuclear Terrorism (published by iUniverse).
"God is dead!" philosopher Friedrich Nietzsche famously wrote a sentiment which has been echoed by many other great thinkers throughout history. Johnson lends his own viewpoint to the discussion, critiquing religion as divisive and intolerant and writing that "God emerges like a hologram in our consciousness and is falsely presented as the champion who will save us from death. Science, with its focused methodology, tells the true story."
In just 12 compact chapters, Johnson wastes no time in making his point. Ultimately, he is hopeful that by sparking a discussion of the failure of religious doctrine will neutralize hostility and break down barriers, and he asserts that a compromise must be made between religious and secular leaders. His rational, logical arguments are particularly pertinent to today's religious climate and focus on highlighting similarities instead of focusing on disparities.
"Throughout my life, I have been continually impressed with how science allows us to discover reliable knowledge," Johnson writes. "At the same time, I view religion as an irrational holdover from our primitive past that is widely held because it seems to address our mysterious existential issues." Using science to support its arguments, Religion: The Failed Narrative promotes honest, straightforward discussion that is essential in a world that is experiencing threats of terrorism, nuclear war and civil unrest. Serving as an important reminder of the rationality inherent in science and absent from religion, Johnson comes forth with a much-needed analysis about how to recognize what's really the truth.
About the Author
Richard C. Johnson, PhD received his bachelor's degree in chemistry at the University of Colorado. He then went on to graduate school, completing his doctorate in chemistry in 1968. After holding two postdoctoral positions at The University of Chicago, Johnson joined the pharmaceutical division's research staff at the Rohm and Haas Company near Philadelphia. He left Rohm and Hass to open his own chemical analysis business, which he operated until retirement in 2006. He has published a thesis on photo-organic chemistry and is the co-author of two US patents and six scientific publications written with other chemists.
iUniverse is the leading book marketing, editorial services and supported self-publishing company. For more information, visit http://www.iuniverse.com.
###