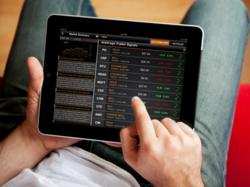 We took a look at the current business model of finance apps for the iPad and decided that we could provide a more valuable experience for our users with Apple's subscription model
San Francisco, CA (PRWEB) July 27, 2011
missingSTEP today announced the launch of a new iPad app called Stock Arbitrage Trader - Real Time Signals, the first finance app to use Apple Inc.'s subscription offering as a stand alone service. The app was built in partnership with EMI Ltd who have built a tool for investors who take positions in the US equity markets and provides real time-time buy and sell signals for selected S&P 500 stocks.
"We took a look at the current business model of finance apps for the iPad and decided that we could provide a more valuable experience for our users with Apple's subscription model" said Alp Simsir founder of MissingSTEP. "Its a visually stunning easy-to-use app that provides a great tool for serious investors."
"This isn't like any other app out there for the iPad" said Levent Toros of EMI Ltd. "Our arbitrage model is a trading strategy specifically designed to exploit 'mean reversion' and we're confident that all traders, not just iPad users will see the value of our tool"
This app marks the first project that MissingSTEP and EMI Ltd have partnered on.
MissingSTEP are the developers of highly rated and successful iPad apps such as
Market Scan - Stock Technical Analysis, Daily Stocks, and Stock Signals.
###