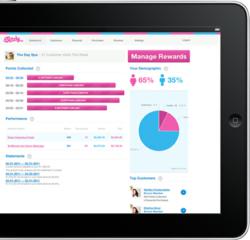 Blitzly is poised to be an essential tool for businesses that run daily deal campaigns.
San Francisco, CA (PRWEB) July 28, 2011
Blitzly is poised to be an essential tool for businesses that run daily deal campaigns, whether through Groupon, Living Social, Facebook Deals or another provider. These campaigns generate an influx of customer leads, but do little to help business owners convert them into loyal, repeat customers. Using Blitzly, businesses are able to reconnect with these leads even after they've redeemed their deal and market their own self-managed rewards to them.
"We've created a product that's amazingly simple to use for both businesses and their customers. Businesses don't need any new equipment to participate and there are no startup or monthly fees", said co-founder Chris Hein. "What's more, Blitzly is unique in that customers don't need a smart phone or yet another loyalty card to participate."
Businesses using Blitzly can also gain deep insights into who their customers are, including demographics and purchase frequency. Blitzly will soon be releasing more customer management features including newsletters and advanced reward targeting. In addition, Blitzly makes use of game mechanics such as status ribbons and leaderboards to keep customers engaged.
"Small businesses have for too long been unable to reap the benefits of a well-managed loyalty program" said co-founder Chris Hein, "... existing solutions require too much employee training and maintenance, are too costly and don't scale. Blitzly changes all that."
About Blitzly
Blitzly was founded in 2011 to help businesses manage and improve customer loyalty. Too many businesses put undue emphasis on finding new customers at the expense of increasing the value of current and past customers, and Blitzly helps businesses to restore this balance. The Blitzly offering includes a complete platform for customer management, analytics, reward promotion and reward sales. Businesses can join at no cost and pay only a commission on reward sales. More information can be found at blitzly.com.
###