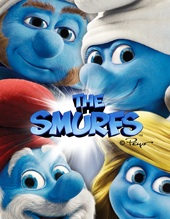 SIMPLY SMURFASTIC!
Santa Barbara, CA / Frankfurt (PRWEB) July 27, 2011
iStoryTime, the largest library of mobile children's book apps, today launched THE SMURFS™ storybook app which is available immediately on Apple's iPad, iPhone and iPod® touch in the App Store for $2.99. Following the original movie storyline, the iOS storybook app gives fans a Smurfy sneak peek of exclusive images and voiceovers from the film prior to its U.S. debut on July 29, 2011.
The Smurfs storybook follows the magical little creatures Papa Smurf, Grouchy, Brainy, Clumsy, Gutsy, and Smurfette on their exciting and unimaginable journey to a faraway land called New York City. Fleeing the evil Wizard Gargamel and his sneaky cat Azrael, the six Smurf friends end up in the apartment of a young couple that is equally surprised by their arrival. With their special humor and a great heart, the Smurfs turn their world upside down and bring fun and action to their everyday routine.
The storybook app also includes a fun and entertaining "Spot-The-Mistakes" game that features three separate scenes to challenge the concentration and eagle eyes of all Smurfs fans, big and tiny for a Smurfing hide-and-seek good time. Each scene contains two side-by-side images from the film with one of them missing several items that need to be found. Once found, users simply tap on the missing item to complete the scene and win the game.
"We're very excited to bring some of the most beloved little blue characters in history to the iOS platform," said Woody Sears, co-founder of iStoryTime. "The Smurfs are a favorite of my family, as they have been for generations, and we're sure parents and their children will enjoy the new storybook app."
iStoryTime brings the joy of a kids' book to the convenience of the iPhone, iPad and iPod® touch. iStoryTime books are illustrated and narrated, so children can enjoy the book even when parents are busy. Best of all, the apps are simple to use because they are designed for kids two-years and up.
To stay up-to-date within ongoing news about iStoryTime, please visit us on our Facebook fan page at http://www.facebook.com/iStoryTime.
Device Requirements:

iPhone, iPod touch, and iPad
Requires iPhone OS 3.0 or later
Pricing and Availability:
THE SMURFS Storybook is $2.99 USD (or equivalent amount in other currencies) and available worldwide exclusively through the Apple AppStore in the Books category.
About iStoryTime
iStoryTime - an interactive storytelling experience delivered to the convenience of your mobile device - features a series of illustrated and narrated books created by parents for kids. iStoryTime books have been highlighted in the New York Times, LA Times, CBS Early Show, theiPhoneMom.com, CNET and is decorated with PTPA Media's Parent Tested Parent Approved Seal of Approval and the Children's Technology Review's Editor's Choice Award. With over 100 titles to choose from including favorites such as Kung Fu Panda, Shrek, How to Train Your Dragon, Peter Pan and Binky the Pink Elephant, iStoryTime books are an excellent tool for both educating and entertaining children ages two years and up. These storybooks can be enjoyed in several different modes ranging from automatic to manual, depending upon the development and preferences of the user. For additional information, visit http://www.iStoryTime.com.
About IMPS
IMPS is the owner of the rights to produce audio-visual works based on the Smurf™ universe and of the Smurf™ worldwide licensing rights. IMPS is controlled by the heirs of Pierre Culliford, better known under his pseudonym Peyo, the author/creator of the Smurfs™. For 50 years, the Culliford family has controlled the Smurf™ characters and all licenses worldwide.
###