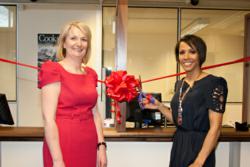 it was great to have Dame Kelly fire the starting gun on the new counter...
(PRWEB UK) 28 July 2011
Olympic double gold medallist, Dame Kelly Holmes officially opened the NEW Cookson trade counter in the heart of the Birmingham Jewellery Quarter on Friday 24th June 2011 at a special launch event that drew large numbers of visitors including leading goldsmiths, silversmiths, and jewellery designers. All of whom regard Cookson Precious Metals as the company that stock 'Everything for the Jewellery maker' and it's now all under the single roof of the largest jewellery making supplies counter in the UK.
Here customers are welcomed to come and get hands on with thousands of products available to touch and feel before they purchase - it's all part of making sure they get the right thing for the job when they need it.
All 11,000 plus Cookson products can also be ordered for collection online or by phone using the "click and collect" or "call and collect" facilities. In addition the trade counter has a dedicated scrap purchasing counter, a secure environment where customers can obtain the best prices for their scrap Gold and Silver jewellery.
After cutting the ribbon to open the counter, Dame Kelly 'had a go' at making a piece of jewellery as part of the World Skills 2011 Initiative, which aims to encourage one million people to 'have a go' at a new skill.
Julie Rogers, Birmingham trade counter manager, says, "It was great to have Dame Kelly fire the starting gun on the new counter, we're all so very excited to be able to offer the trade what are probably the best facilities and services in the Industry. Including a dedicated SCRAP REFINING COUNTER that will provide our customers with the option of having their scrap recycled into ECOGOLD a fully traceable and audited process that enables them to be a part of our strategy on providing ethical alternatives to the UK consumer."
The new counter is located at 59-83 Victoria Street, Birmingham, B1 3NZ, just a few yards from its previous location and within 200 yards of the Chamberlain Clock at the heart of Birmingham's historic Jewellery Quarter.
To click & collect visit Cooksongold.com
To call & collect ring 0845 100 1122.
Or just pop in for a chat.
Notes to editors:
Cookson Precious Metals division is a leading supplier of fabricated precious metals (primarily gold, silver and platinum) and jewellery making products to the jewellery industry in the US, UK, France and Spain. Products include alloy materials, semi-finished jewellery components and finished jewellery.
Cookson are also stockists of the industry's biggest brands such as Swarovski, Beadalon, Dremel, PMC, Art Clay and Fimo, as well as Reflections Silver, their very own enhanced tarnish resistant alloy, a harder, whiter and superior alternative to sterling silver.
With almost 20 years experience in the industry, Cookson despatch thousands of parcels every week for next day delivery to designer jewellers, retailers, independent craftsmen, goldsmiths and silversmiths, jewellery students, artisans and craft enthusiasts all over the world.
###