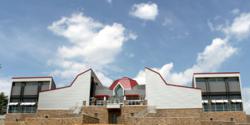 At Heartwood, travelers can learn about local artisans and music, savor regional cuisine, shop for hadmade crafts and attend live concerts and old-time bluegrass jams.
Richmond, Va. (PRWEB) July 28, 2011
Heartwood: Southwest Virginia's Artisan Gateway celebrated its grand opening on July 23, offering travelers the opportunity to discover the rich culture, music and artistic heritage of Southwest Virginia's Appalachian region. The brand-new, 30,000-square-foot destination shaped as a modern-day barn has interactive exhibits, live music, craft demonstrations and shopping for the finest arts and crafts of the region. Travelers can learn about local artisans and music, savor regional cuisine, shop for handmade crafts and plan trips on the Southwest Virginia's scenic artisan and music trails – a way to experience the region like never before.
For music lovers, Heartwood is headquarters for The Crooked Road: Virginia's Heritage Music Trail. Guests can attend live concerts and jams at Heartwood's performance space and interact with the musicians. Handmade instruments made by regional luthiers, an extensive collection of regional, old-time bluegrass and gospel CDs and DVDs as well as merchandise and clothing, are all on sale at The Crooked Road Store. Those inspired to experience The Crooked Road themselves can plan a trip along the extensive music trail using Heartwood's interactive trip planning kiosks. Visitors to The Crooked Road will enjoy some of the most authentic and renowned old-time country and bluegrass music venues in the world, along with outdoor recreation, museums, crafts, dining, and historic and cultural programs.
Heartwood is also a showcase for Southwest Virginia's premiere artisans. All artisans who display and sell their work at Heartwood are members of the 'Round the Mountain: Southwest Virginia's Artisan Network and have been juried. Visitors have the opportunity to meet and talk with artisans, see the work firsthand, visit craft venues, shop at galleries, take classes, plan trips and more. For those interested in making a purchase, there are an abundant variety of handmade arts and crafts available in the Heartwood galleries including traditional split white oak baskets, clay pottery and sculptures, wooden bowls, tables, trays and art pieces, quilts and woven scarves and many more.
Culinary enthusiasts will get a taste of Southwest Virginia's regional food and wine through Heartwood's restaurant, the wine and coffee bar and gift shop. The chefs re-interpret traditional home cooking and use locally grown ingredients to create dishes that are adventurous and satisfying. Travelers can also relax with friends and family at the wine and coffee bar, featuring regional wines and coffee brewed from locally roasted coffee beans. Visitors may purchase jams, jellies and more in the Heartwood gift shop.
Heartwood is free to visit and open seven days a week. Monday-Thursday, 8:00 am-7:00 pm; Friday, 8:00 am-6:00 pm; Saturday, 8:00 am-7:00 pm; and Sunday, 9:00 am-5:00 pm. For more information, visit heartwoodvirginia.org or call 276-492-2400. A visit to Heartwood and a vacation in Virginia are great ways to reconnect with family and friends and realize that love is at heart of every Virginia vacation.
Visit http://www.Virginia.org for more information and trip ideas or call 1-800-VISITVA for a free Virginia is for Lovers travel guide. Stay connected at http://www.facebook.com/VirginiaisforLovers or follow on Twitter at http://www.twitter.com/VisitVirginia.
# # #