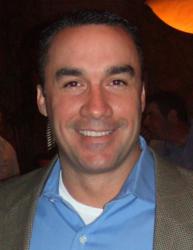 "I decided to join the team, primarily because I have never before seen a collective group of such talented and committed individuals come together to assemble an education and development platform of this magnitude."
Denver, CO (PRWEB) July 28, 2011
Personal Training Academy Global (PTA Global), international provider of professional fitness development and personal training education, is welcoming a new CEO. This month, Kevin Laferriere begins his role as Chief Executive Officer with the company.
"I decided to join the team, primarily because I have never before seen a collective group of such talented and committed individuals come together to assemble an education and development platform of this magnitude," says Laferriere, who boasts more than two decades of experience in overseeing strategic partnerships and increasing revenues for commercial fitness organizations.
Founded in 2008, in San Diego, California, PTA Global represents thousands of personal trainers in North America, Asia, Australia and Europe. PTA Global has three main, international offices with more than 50 associated faculty members. It serves major international and local clients, including Power Plate, Polar, Technogym, and Dartfish.
"I find PTA Global's approach refreshing and relevant to the true demands club operators and trainers face today," adds Laferriere, well-known for his career as the President of a multi-million dollar health club chain, Lifestyle Family Fitness.
PTA Global strives to develop the most cutting-edge and comprehensive education in the industry; specifically designed to give fitness professionals the necessary tools to undertake a successful career. PTA Global partners with three primary sectors, academic institutions/universities, fitness industry vendors and commercial fitness.
"As part of our rapid growth plan, we recruited a seasoned operator to help take us through the next phase of expansion," says Rodney Corn (US) who co-founded PTA global, along with four other highly educated fitness professionals, including Bobby Cappuccio (US), Scott Hopson (UK), Ian O'Dwyer (Australia), and Michol Dalcourt (Canada).
"In the next year, our goal is to finish bringing PTA Global into every major fitness market worldwide," adds Laferriere, who has always been passionate about fitness.
For more information on PTA Global, please visit them online at http://www.ptaglobal.com or call 877-647-0690.
To arrange an interview with Kevin Laferriere, please contact Colleen Goodwin by phone at 877-647- 0690 or by email at colleeng(at)ptaglobal(dot)com.
About the author: Cassie Bouldin holds a bachelor's degree in broadcast journalism. She is a freelance writer, who has been published in magazines and newspapers across the United States. To reach her, please email CassieBouldin(at)gmail(dot)com.
###