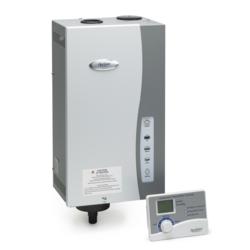 Aprilaire has a rich tradition of industry firsts, which has changed the face of health and comfort in the home. Our new whole-house steam humidifier continues that tradition.
Madison, WI (PRWEB) July 28, 2011
Aprilaire, makers of indoor air quality products and a division of Madison manufacturer Research Products Corporation, was recognized for excellence in product design in the 8th annual Dealer Design Awards program. The Aprilaire Steam Humidifier earned a Gold Award in the Indoor Air Quality category.
The annual industry awards, presented by The Air Conditioning, Heating & Refrigeration NEWS, included 127 entries from more than 80 different brands. An independent panel of HVAC contractors reviewed the entries, awarding gold, silver and bronze winners across 13 categories. The panel evaluated entries based on top priorities for contractors – from ease of installation to service and maintenance features.
"We're thrilled that a panel of contractors selected the Aprilaire Steam Humidifier to receive the top prize for Indoor Air Quality," said Mike Rimrodt, director of marketing at Aprilaire. "They're the experts. It means a lot to have been chosen by them."
The Aprilaire Whole-House Steam Humidifier uses technology that was previously only available in commercial applications, before being introduced by Aprilaire.
"With this new technology, the convenience and efficiency of automatic, whole-house humidification is now possible for residential homeowners," Rimrodt said. "It's a great addition to our tried-and-true evaporative humidifiers, which we continue to manufacture here in Wisconsin, as we have for more than 70 years."
"One of our core values as a company is to foster and reward innovation," said Mike McGowan, president of Aprilaire. "Aprilaire has a rich tradition of industry firsts, which has changed the face of health and comfort in the home. Our new whole-house steam humidifier continues that tradition."
Research Products Corporation is the manufacturer of indoor air comfort products serving the residential and commercial markets throughout the United States and Canada. The privately-held company was founded in 1938 and employs approximately 500 people in locations throughout the United States including about 250 in Wisconsin. The Research Products family of companies includes the Aprilaire division headquartered in Madison, Dri-STEEM Corporation of Eden Prairie, MN, and GeoSystems Corporation in Maple Grove, MN. Aprilaire.com
# # #