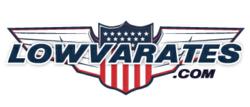 We have given away thousands of dollars of free prizes on our facebook contests and we will continue to give away more.
Lehi, UT (PRWEB) July 28, 2011
LowVARates recently gave away a free iPod touch to the June monthly Facebook give away winner and will give away $200 cash on Facebook for its July contest.
Every month LowVARates.com provides a contest on Facebook to give away a large prize. Anyone can enter the contest and the winner is randomly selected. To enter the contest all applicants have to provide is their name and email address.
The June winner of the iPod touch was Linda G. of Minnesota. Linda husband Ken serves in the U.S Armed Forces and is currently overseas serving.
"My husband has wanted an iPod Touch for a long time to take overseas with him," Linda said. "I can't wait to give it to him. He is going to be very surprised."
For LowVARates.com, Facebook is allowing them to help military families and veterans by providing fun weekly and monthly give away contests.
Every Friday LowVARates.com gives away free cash prizes. The contests are extremely simple to enter and a winner is randomly selected the following Monday.
Owner of LowVARates.com, Eric Kandell, has tried to use Facebook and other social media tools to reach out to veterans and increase interaction with potential military homeowners.
"We love running our contests on Facebook," Kandell said. "We have given away thousands of dollars of free prizes on our Facebook contests and we will continue to give away more."
Low VA Rates has given over $2,000 of cash and prizes to followers entering the weekly giveaways. The prizes have included: restaurant gift cards, iPods, cash, shopping gift cards, movie tickets, home improvement gift cards and many other valuable items.
The weekly contests are open to any member of Facebook and generally take place around 9 – 11 a.m. MST. The weekly winner has the prize mailed directly to their home. The monthly contests can be entered only once a month per person and are notified of the winner within the first few days of the following months.
"Our weekly Friday Give away and monthly contests on Facebook have become very popular," Kandell said. "We try and get our name out there by doing a fun promotion and giving away prizes that would be valuable to our followers."
The July $200 cash giveaway will end on July 31st and the winner will be notified the first week of August. Follow this link to enter the contest: http://www.facebook.com/lowvarates
The winner will be notified by email and announced on LowVARates.com Facebook and twitter accounts.
"Our main goal with social media and particularly Facebook is to help military families become more acquainted with LowVARates and better understand the benefits of using a VA home loan," Kandell said.
To join the LowVARates.com Facebook community visit its page at: http://www.facebook.com/lowvarates
ABOUT LOWVARATES.COM
For the past 20 years LowVARates.com has been dedicated to serving veteran homeowners. We specialize in providing VA loans to qualified veterans for mortgage purchases and refinances. These loans provide lower interest rates and monthly payments than other traditional loans.
VA loans are currently the only program left that allows no-money-down loans providing a secure mortgage option guaranteed by the Federal Government. Our professional staff and loan officers will assist you to lock in low interest rates and take advantage of the unique opportunity provided through VA loans.
###