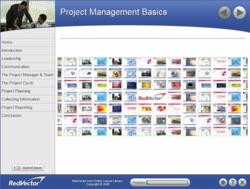 "The Executive Certificate Programs are really what RedVector is all about…quality CE courses hand-selected to provide exactly what today's professionals need." Jeff Nippes, Director of Content Development for RedVector
Tampa, FL (PRWEB) July 28, 2011
Premier online design and construction training provider RedVector.com offers five Executive Certificate Programs for professionals in the architecture, engineering and construction (AEC) industry. Accessible through RedVector's industry-leading AEC Learning Management System, each multi-course program features more than 30 hours of relevant design and construction training content written by subject matter experts to develop essential skills and promote career advancement. Licensed and non-licensed industry professionals can choose from:
Construction Project Management & Finance – 34 Courses, 38 Hours

Proven project management methods to increase customer satisfaction and profitability
Demonstrates how to successfully plan, organize, control and lead a construction project through its entire life cycle
Construction Supervision – 21 Courses, 40 Hours

Enables emerging construction supervisors to become effective leaders
Focuses on managing workers, reducing turnover and minimizing HR issues
Electrical Safety & Essentials – 13 Courses, 37 Hours

Examines basic electrical concepts, blueprint reading and tools
Focuses on key safety issues such as working with electricity, fall protection, back safety
Business Management – 13 Courses, 35 Hours

AEC-focused business courses increase competency and employability
Covers business writing and communication, project management, time management, leadership and presentation skills
Leadership & Management – 19 Courses, 38 Hours

Focuses on key leadership and management skills relevant to the AEC industry
Covers performance appraisals, motivation and mentoring, delegation, project development and management, time management and team building
"The Executive Certificate Programs are really what RedVector is all about," says Director of Content Development Jeff Nippes. "These are quality design and construction training courses written and developed by top industry experts and hand-selected to provide exactly what today's professionals need to advance their careers and achieve success in the design and construction industry. It's just another example of how RedVector is working continually to promote job growth by providing the very best in continuing education solutions."
The Executive Certificate Programs are readily available through RedVector's user-friendly online learning platform, which allows professionals the convenience of taking courses 24 hours a day, 7 days a week from any computer with Internet access.
About RedVector
RedVector sets the standard for excellence in online continuing education for licensed and certified professionals in AEC industry and holds more than 60 state and national accreditations. With an online library exceeding 1,000 courses authored by more than 100 subject matter experts and spanning all 50 states, RedVector serves more than 130,000 architecture, engineering and construction professionals. The recipient of numerous community honors and industry awards, RedVector was founded in 1999 and is headquartered in Tampa, Florida. For further information call 1-866-546-1212 or visit http://www.redvector.com.
###