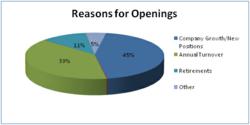 "Unless tax leaders proactively address the overall hiring market trends and internal compensation levels," said Tony Santiago, "they will be losing more people than expected and then have to deal with more replacements and further on-boarding pressures."
Mt. Pleasant, SC (PRWEB) July 28, 2011
A recent survey by TaxTalent of corporate tax department hiring authorities revealed that unanticipated employee turnover should now be expected throughout the remainder of 2011. The survey, conducted by TaxTalent, included data from over 200 chief tax officers of in-house corporate tax departments within the U.S.
The survey revealed three important findings:

There was a significant disconnect between survey respondents who plan to hire and respondents who expect turnover (63% of respondents plan to hire before year end while only 39% of tax departments expect turnover).
There was also a significant shift in the type of tax professional looking to be hired and the specialty needs those professionals would fill within the tax departments.
A significant percentage of department leaders (56%) did not feel comfortable about their current employee compensation levels which may also lead to further turnover.
According to TaxTalent president Tony Santiago, the findings emphasize the need for heads of tax departments to address turnover before it occurs. "Compensation is never the only factor in employee turnover," stated Santiago, "However, it is a catalyst for employees to consider career options, and having market-level salaries is imperative to both employee retention and attraction."
Santiago routinely advises clients to better manage compensation levels. In addition, he recommends maintaining close bonds with top department performers in order to battle employee poaching within the tax field. "Unless tax leaders proactively address the overall hiring market trends and internal compensation levels," said Santiago, "they will be losing more people than expected and then have to deal with more replacements and further on-boarding pressures."
Survey respondents also cited several reasons for job openings in the tax industry; including company growth, annual turnover and retirement as well as succession planning, replacement of outsourced employees, and international expansion. When asked how they will recruit new employees, respondents answered in the following breakdown:

34% will use search firms
30% will rely on job board postings
26% will utilize their internal network
10% will rely on other methods (internal recruiters, specialized tax web sites, etc.)
For a complete copy of the 2011 Year End Tax Hiring Outlook and audio commentary from Tony Santiago, please visit http://www.TaxTalent.com/hiringsurvey.pdf.
About TaxTalent
TaxTalent is the world's largest online tax network combining free career resources for tax professionals and valuable performance-based services for progressive tax departments. TaxTalent resources include a comprehensive tax event calendar, tax salary calculator, a free job board and an online mentoring program designed to help both individual tax professionals and hiring authorities. Membership in TaxTalent is free and is expanding to include additional resources that help professionals succeed in the tax field. To learn more about TaxTalent by visiting http://www.TaxTalent.com or call 843-216-7444.
###