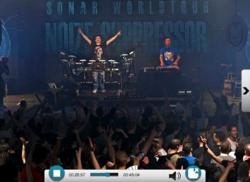 [Sonar] will be touching down in Sydney in August, but through live streaming with DaCast we can expand to reach our global fans and give them a front row seat regardless of location
San Francisco, CA (PRWEB) July 28, 2011
DaCast, the first fully integrated, self-service platform for live streaming, today announces teaming up with the musical group Noize Suppressor to live stream their Sonar World Tour event to audiences worldwide.
"We are proud to join up with DaCast to stream our Noize Suppressor Presents Sonar World Tour," said Ronnie Lee, Director, Noize Suppressor, Inc. "The event will be touching down in Sydney, Australia in August, but through live streaming with DaCast we can expand to reach our global fans and give them a front row seat regardless of location."
The Noize Suppressor Presents Sonar tour is a brand new form of entertainment that has successfully taken the live performance act into the next generation. Using the Sonar music device, an all-inclusive musical apparatus, the event features a musical phenomenon so visually stunning that it's rightfully become the most sought after performance act in hardcore events and festivals worldwide.
By using the online video service DaCast, the Sonar World Tour will be broadcast to those with internet access all around the world. Viewers can not only experience the music, but also enjoy the visual treat of seeing the Sonar music instrument during the performance. The media player presenting the feed will contain the built-in Pay-in-Play payment system, which will let fans order the pay-per-view with any major credit card or PayPal account straight from the player.
Noize Suppressor has used the DaCast service in the past, broadcasting rehearsals to thousands of fans directly from their Facebook page. The Sonar World Tour will be the group's first concert stream.
The pay-per-view cost is $9.99 for the entire live event. The Sonar World Tour will be broadcast live on August 5th starting at 7PM in Sydney, Australia (GMT +10). Tickets for the actual venue are already on sale and can be bought from http://www.moshtix.com.au/event.aspx?id=47507
About DaCast
DaCast specializes in delivering an easy to use monetization platform for live streaming. The company is headquartered in San Francisco, California with a European office in Paris, France. For additional information, please visit http://www.dacast.com.
About Noize Suppressor
Leaders in the realm of Hardcore Techno, Noize Suppressor has taken their industrious art form to another level. With their revolutionary Sonar instrument, the group brings fans an unmatched experience in musical and live entertainment. For more information, visit http://www.noizesuppressor.com.
###