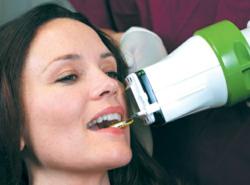 Tru-Align reduces harmful radiation from dental x-rays by as much as 70%
San Diego, CA (PRWEB) July 28, 2011
The flurry of recent media coverage--from Dr. Oz to the New York Times--about medical and dental x-ray radiation safety has created national concern among healthcare consumers, especially regarding children.
An important story is unfolding at the San Diego Convention Center from Thursday July 28-30, at booth 434 as Interactive Diagnostic Imaging (IDI) shows its revolutionary Tru-Align dental x-ray machine add-on. Tru-Align lowers dental x-ray radiation exposure by as much as 60-70%, allaying patient fears and ensuring the safest and most beneficial dental office visit.
This new technology reduces radiation exposure when receiving necessary dental x-rays along with eliminating the need for re-takes. Up to 40% of all dental x-rays are retakes. The Tru-Align can be used with digital radiography or phosphor plate (PSP) systems.
The Hippocratic Oath says that oral health professionals are "bound" by the ALARA principle when it comes to taking x-rays. ALARA stands for "as low as reasonably achievable." In other words, dentists are committed to specific procedures to minimize radiation exposure that are practiced universally. The Tru-Align provides dentists with a solution for following the ALARA principle and protecting their patients from needless exposure to dental x-ray radiation.
Change the Shape, Reduce the Radiation
Widely ignored, a key component of the ALARA protocol is use of "rectangular collimation" to reduce radiation exposure. The typical round cone emits a large beam of radiation that makes it easy to aim at the desired area. But it also emits a lot of scatter radiation that is absorbed by the patient instead of the x-ray sensor. Rectangular collimation creates a smaller, rectangular beam that dramatically reduces useless and dangerous scatter radiation.
Tru-Align
Technically, Tru-Align is a "rectangular collimator" that can reduce patient exposure to radiation by as much as 60-70% and it allows dentists and their teams to use familliar techniques and it provides more accurate, useful x-rays. For patients, this means safer visits, better care. For dentists, this means all the previous problems are eliminated.
Educated consumers are the best--and safest--patients. Patients are encouraged to "Look for the green ring" on their dentists' x-ray machine to make sure they are receiving the safest x-rays and the most accurate diagnosis.
Members of the media can learn about Tru-Align live and up close at the AGD Annual Meeting, booth 434. Press passes to the session are available at no cost by registering on site at the Press Booth located in the main registration area. To schedule a demo/interview with an IDI principal and/or Tru-Align developer, contact Lisa Schwartz by email at lisa(at)99ronin(dot)com or by phone at 213-500-4170
Complete details on Tru-Align are available at http://www.IDIXray.com or by calling toll-free 855-IDI-XRAY.
Tru-Align YouTube video channel: http://www.youtube.com/trualign
About Interactive Diagnostic Imaging (IDI)
Interactive Diagnostic Imaging (http://www.IDIXray.com) focuses on the design, patenting and marketing of advanced x-ray imaging equipment and related digital technology products, predominantly for the dental market. Five core products are being designed and patent protected, with the participation of leading dentists and university researchers. IDI products dramatically enhance diagnostic services while improving profitability. IDI's product line is an integrated group of products that provide a total solution to in-office imaging and diagnosis, especially at the point of care.
###