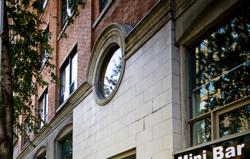 With this new office and a new innovative corporate branding, YESpay is determined to assist its North American customers to "pay the new way"
Toronto, Canada (PRWEB UK) 27 July 2011
YESpay, a global payment software company, recently moved from its previous location on Richmond Street West to a bigger office in the heart of Toronto, on Spadina Avenue. The expansion and change of location reflect YESpay's strong commitment to the North American market where the activity increased significantly in the past months. Indeed, with this new office and a new innovative corporate branding, YESpay is determined to assist its North American customers to "pay the new way", as indicated in the company's new tag line.
Headquartered in London (UK), YESpay has established its presence in UK and Europe since 2002, providing European retailers with its EMV Chip and PIN and multi-channel credit and debit card payment solutions. YESpay has drawn upon its UK experience to become the FIRST hosted EMV Chip & PIN payment service provider in Canada in 2010, less than one year after the opening of its Toronto office.
YESpay's payment solutions relieve merchants from deploying and maintaining an expensive in-house payment solution as well as undergoing formal lengthy end-to-end EMV bank testing and managing PCI-DSS compliance. Outsourcing payment processing to YESpay considerably cuts the costs associated with EMV bank accreditation and PCI-DSS compliance as merchants only have to pay a low monthly fee while there is no upfront capital expenditure.
Recognizing the change, innovation and commitment this integrated payment solution brings into the North American market, YESpay received in June the prestigious ACT Canada Gold International Innovation Award 2011 in the category Payment for its unique integrated and fully managed EMV Chip & PIN card payment service called EMBOSS™.
Since 2009, YESpay has an office in Toronto and now with a bigger premise and its payment solutions well recognized and launched in North America, YESpay is planning to develop its multi-channel (Card-Present and Card-not-present solutions) offering and to build on value-added services like the Store Manager™ and the Gift-Card Solution. Those developments are in tune with the market trend - although of course a number of merchants and POS vendors still need to upgrade towards EMV – as the payments industry is slowly focusing on other channels and value-added services. This is exactly the multi-channel vision YESpay has and the expansion will ensure YESpay`s offering will be given even more credibility and confidence as a sound and efficient payment service.
About YESpay International Ltd:
YESpay International Ltd. provides highly secure and scalable EMV Chip & PIN credit/debit, Interac, e-commerce and gift card payment services to merchants in Europe and North America. Through EMBOSS, YESpay's payment gateway, merchants can accept integrated card payments within EPOS, MOTO and e-commerce systems with minimal capital investment and low services costs. EMBOSS has been generically pre-accredited by major Card Acquirers in Europe and North America (including Chase Paymentech, First Data Merchant Service (FDMS), Barclaycard Business, HSBC, HBOS, Lloyds Cardnet, RBS Worldpay, Ulster Bank, Elavon, PBS, Amex and Diners) ensuring merchants can upgrade their retail systems within 2-4 weeks without further bank approvals. Besides, EMBOSS is end to end PCI DSS Level 1 certified and supports enhanced security features such as Point-to-Point encryption and tokenization, making sure that no card data is exposed to the merchant or transmitted over unsecure networks.
YESpay International Ltd Offices:
UK Headquarters: Checknet House, 153 East Barnet Road, EN4 8QZ, Barnet, UK
Phone: +44 203 006 3790
Canadian Office: 116 Spadina Avenue, Suite 201, M5V 2K6, Toronto, Ontario, Canada
Toll Free: 1 855-YES-PAY-1 | Fax: 1 855-YES-PAY-2
PR Contact:
Sophia Dahri, Marketing and Sales Manager, ext. 505, sophia.dahri(at)yes-pay(dot)com
###