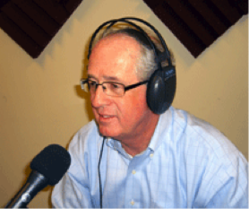 "Old paradigms of "incubation" models are being replaced by this "collision-rich" environment. It's a new model that's certainly not common, but is totally effective.
Atlanta, GA (PRWEB) July 28, 2011
Atlanta Business RadioX Host Bernie Wolford recently had the opportunity to sit down with Hub Atlanta Founder Michelle Morgan and Hub members Ross Rankin, of Trip Lingo and Lewis Perkins of New House Consulting to talk about the changing model for business incubation.
New businesses no longer just want a space to work out of and a place to take a meeting. They are looking for more. Savvy entrepreneurs want to network, share ideas and collaborate with like-minded professionals and business owners. Wolford chose to explore this new model with Michelle Morgan whose vision for The Hub Atlanta is leading the way.
"Old paradigms of "incubation" models are being replaced by this "collision-rich" environment. It's a new model that's certainly not common, but is totally effective. Eavesdropping is encouraged in this dense co-working space. In these economic times for which new job creation is critical, The Hub is providing the venue and support for new company creation, launch and acceleration," says Morgan.
Before founding The Hub Atlanta, Morgan worked as a professional architect for more than 15 years. She says it was those same skills of designing, drawing, writing, speaking, calculating and managing that gave her the ability to build the innovative work community centered at Hub Atlanta.
The Hub Atlanta has become a nexus point of entrepreneurship, funding, and mission. It is a place where non-profit and for-profit social change ideas build and scale into viable enterprises that address the complex problems we face, from poverty to climate change, for people and planet. Change agents find the support they need at the Hub to reach their goals faster, surrounded by a community that makes everyone smarter and more effective. From seed funding to professional services, from mentors to peers who understand what they are doing, the Hub is the platform that helps you make it happen. It's where change goes to work
About Accelerator Avenue:
Bernie Wolford, Host of Business RadioX™ show "Accelerator Avenue", interviews founders, owners, and operators of small businesses who have made it "out of the garage", and are now clearly in the "acceleration phase" of their newly found success. Topics include bootstrapping, funding options, market penetration, first generation management and staff, and other issues that must be tackled and mastered at this phase of business formation. Companies providing services at this stage of business growth also appear as guests. Additionally, business persons who have successfully taken their growing businesses through this challenging stage appear to share their experiences with listeners.
About Atlanta Business RadioX
Atlanta Business RadioX provides a turnkey solution for business owners who want to leverage the power of internet radio to meet their best prospects, establish credibility for their organization and heighten the placement of their brand in search engines rankings. With a professional venue and a proven formula, Atlanta Business RadioX helps hosts podcast their shows and create a regular stream of dynamic content to share with their prospects and feed the search engines every week. Programs are recorded and streamed live to the internet from our corporate offices in suburban Atlanta. For more information or to see a live show, visit: http://www.BusinessRadioX.com.
###