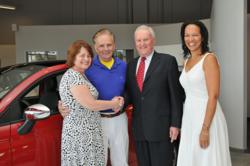 I never thought I would be the winner of a new car for just giving to a good cause.
Baltimore, MD (PRWEB) July 30, 2011
Heritage Auto Group donates a 2012 Fiat 500 Sport to a lucky raffle winner on behalf of the American Cancer Society – Relay For Life.
Heritage Auto Group, a MileOne division donated a new, 2012 Fiat on behalf of the American Cancer Society's "Relay for Life". MileOne Automotive has donated a vehicle as a Flag Ship Sponsor to the American Cancer Society for over 13 years. Vehicles are donated to help the Society celebrate cancer survivorship and raise funds for the nonprofit organization's cancer research and patient service. This year's donated vehicle was the 2012 Fiat 500 Sport from the Heritage Auto Group.
Heritage Auto Group's newest dealership, Heritage Fiat is welcoming back the Fiat brand to the US market from its 27 year absence. The showroom is revamped to fit the Fiat brand image and will be the only Fiat dealership in the Baltimore-metro area. The new dealership is located at 11216 Reisterstown Road, Owing Mills, MD, 21117.
More than 50 Relay for Life events are held each year to honor and remember those affected by cancer, encourage early detection of the disease and support legislative issues related to cancer. This year's raffle drawing for the winner took place on Friday, June 17th at Goucher College in Towson, Maryland. The MileOne family from executive leadership to the sales team all showed tremendous support and passion for the cause. Over the years, the car raffles have raised over $2 million dollars in the fight against cancer. There was also a silent auction to raise additional funds for ACS. The opening ceremony began at 7 p.m. and included kickoff announcements, fundraising successes, and Survivors taking the first lap around Goucher College track. Shortly after, all of the raffle tickets were put into the truck of the Fiat and the winner was drawn.
Edith Sue Lawson-Smith, was the lucky winner out of thousands for a brand new 2012 Fiat 500 Sport. The American Cancer Society and MileOne Automotive representatives contacted Mrs. Lawson-Smith from Ashburn, VA with the exciting news. She sold numerous amounts of raffle tickets to her friends and family members as well as purchasing many personally. When asked why such the dedication to ACS she replied that ACS hits home for her and her husband both. On Monday, July 11, 2011 Lawson-Smith drove off the lot with her new Fiat, not before having our Heritage Fiat dealership add additional accessories to deck-out her new red ride.
MileOne Automotive is committed to driving out cancer and celebrating more birthdays! "The MileOne family is committed to giving back to the community, and we are proud to partner with the American Cancer Society to increase cancer awareness and raise dollars for fighting the disease," stats Jerry Fader, president and chief operating officer of MileOne Automotive.
About MileOne Automotive
MileOne Automotive operates 59 retail automotive franchises representing 26 different brands and 9 collision center in Pennsylvania, Maryland, North Carolina and Virginia with a focus on the Baltimore-Washington, Hampton Roads/Virginia Beach, Nags Head/Elizabeth City and Wilkes-Barre/Scranton major metro areas. MileOne.com allows customers to research new, used and fuel-efficient luxury, import and domestic cars and trucks, send information about vehicles to their mobile device, schedule service appointments, buy parts and accessories, play automotive games, and download automotive wallpaper and mobile ring tones and join us on Facebook, Twitter, and our drivemileone.com Blog. For more information or to find a quality MileOne dealership near you, please visit http://www.mileone.com.
About The American Cancer Society
The American Cancer Society combines an unyielding passion with nearly a century of experience to save lives and end suffering from cancer. As a global grassroots force of more than three million volunteers, we fight for every birthday threatened by every cancer in every community. We save lives by helping people stay well by preventing cancer or detecting it early; helping people get well by being there for them during and after a cancer diagnosis; by finding cures through investment in groundbreaking discovery; and by fighting back by rallying lawmakers to pass laws to defeat cancer and by rallying communities worldwide to join the fight. As the nation's largest non-governmental investor in cancer research, contributing more than $3.4 billion, we turn what we know about cancer into what we do. As a result, more than 11 million people in America who have had cancer and countless more who have avoided it will be celebrating birthdays this year. To learn more about us or to get help, call us any time, day or night, at 1-800-227-2345 or visit cancer.org. For cancer news in your community, visit sacancernews.org.
###