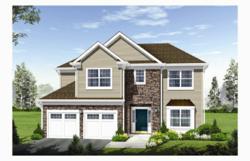 American Properties will achieve a Bronze rating from the National Association of Home Builders (NAHB) for its latest single-family, luxury home development, Heritage at Piscataway.
Iselin, N.J. (PRWEB) July 29, 2011
American Properties, an award winning, family-owned, New Jersey-focused, LEED certified home builder, was recently awarded both first and second place in Woodbridge Township's Green Office Building & Business Challenge, earning recognition in the tenant and property manager categories for the company's conscious efforts to promote and model innovative, green advances for New Jersey businesses.
"As one of New Jersey's first Green certified, luxury homebuilders, we consistently try to set the bar for environmentally sustainable practices, as both a local business and a community-focused homebuilder," noted Paul Csik, Senior Vice President of American Properties. "These awards parallel our commitment to adapt to the changing market and provide more environmentally-friendly living space in our communities. We're tremendously honored to receive this recognition from Woodbridge Township."
The challenge encouraged Woodbridge Township business owners and tenants to implement environmentally sustainable initiatives in an effort to reduce their carbon footprints. Points were awarded for a range of efforts, including conducting waste and energy audits; installing energy-efficient lighting, doors and windows; setting up sustainable business policies and procedures; and getting involved in local community programs.
American Properties earned first place in the tenant category for its creation of sustainable business policies, employee transportation goals and an extensive employee wellness initiative. The New Jersey builder was also honored with 2nd place in the Property Manager category for its installation of fixtures that significantly reduce water consumption, demonstrating its long-standing commitment to the surrounding community. In addition, American Properties had the highest tenant participation of the companies involved in the challenge.
With experience in residential real estate that spans over four decades, American Properties has acquired a deep understanding of New Jersey's local markets. The company specializes in the development of luxury, community-oriented residential communities in premier locations that serve the needs of a wide variety of homebuyers with various lifestyles. As further evidence of its commitment to green-minded, innovative building, American Properties will achieve a Bronze rating from the National Association of Home Builders (NAHB) for its latest single-family, luxury home development, Heritage at Piscataway. Upon completion of the community in summer 2011, Heritage at Piscataway will meet the National Green Building Standard, marking American Properties as one of the first green homebuilders in New Jersey. All homes in the community will be Energy Star certified, yielding superior comfort and significantly lower energy costs.
In addition, American Properties was recently named the second largest home building company in New Jersey by BUILDER Magazine's prestigious annual ranking report, the 2010 Builder 100 list, earning specific recognition for its strong sales, construction activity, innovative marketing and green building initiatives.
For more information about American Properties, please call 732-424-0190, visit http://americanproperties.net, or find us on Facebook at http://www.americanproperties.net/facebook.
About American Properties
American Properties Realty, Inc., is a family owned, New Jersey focused, award-winning, LEED Certified home builder based in Iselin, N.J., that is committed to earning the trust of each buyer who calls its communities "home." American Properties Realty and its affiliated companies have created more than 15,000 homes: from luxury single-family estates to master-planned communities of apartments, condominiums and townhomes. American Properties Realty prides itself on delivering the right home in the right place at the right price. Its residential communities have an unsurpassed reputation for quality craftsmanship and extraordinary value in creating community-oriented homes in premier locations. For more information please visit http://www.americanproperties.net or call 732-424-0190.
###