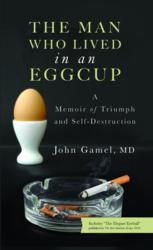 Minneapolis, MN (PRWEB) July 29, 2011
Every hospital corridor has stories of triumph and tragedy. It's the place where lives are won and lost. It's also where author John Gamel learned the human psyche can't be stripped down to mere science—the human heart is too strong. The Man Who Lived in an Eggcup is a funny, tragic, empowering and humbling journey about the emotional side of the doctor-patient relationship.
The Man Who Lived in an Eggcup are the stories behind the stories of patients who couldn't be healed, were lost to a mistake made by the doctor or were victims to their narcissistic desires. They are a collection of essays told through each phase of the authors' life, using straightforward and unsparing details. We all must go at some point, but through riveting, entertaining and unique stories, Gamel expertly shows us pathways through any and all amounts of darkness.
The chapters in The Man Who lived in an Eggcup have received praise in the literary world. The Best American Essays solidified this by including The Elegant Eyeball in its 2010 edition. Fourteen other chapters have appeared in some of America's most prominent literary journals, including The Alaska Quarterly review, The Antioch Review, Boulevard and Epoch.
About the Author: John W. Gamel is a professor at The University of Louisville School of Medicine. He's published over 90 scientific articles with topics ranging from fingerprints to breast cancer. He's also published fifteen essays in some of the best literary journals including, Epoch, Boulevard, The Antioch Review, and The Alaska Quarterly Review.
###