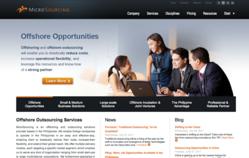 Our new website will show-case MicroSourcing for what it truly is: the best possible partner for any outsourcing or offshoring endeavor in the Philippines
(PRWEB) July 28, 2011
Manila-based offshoring and outsourcing solutions provider MicroSourcing announced today the re-launch of its website at http://www.microsourcing.com. The English-language website provides business owners of all kinds—from independent entrepreneurs to multinational corporations—with access to outsourcing and offshoring solutions that will assist them in dramatically reducing their costs while increasing their operational flexibility and global reach.
Beyond providing a wealth of information, the website also features interactive tools that can assist businesses in finding the best delivery model to suit their needs. These delivery models are clearly explained on the website and include project outsourcing, offshore staffing, virtual captives, joint ventures and built-operate-transfer programs.
Philip Kooijman, CEO of MicroSourcing explains: "Our website has always been one of our main channels for letting people know about our services. This new version will really take things to the next level and provide our audience with a very clear overview of our services and a highly transparent look into our business. Our new website will show-case MicroSourcing for what it truly is: the best possible partner for any outsourcing or offshoring endeavor in the Philippines."
Key features of the new site include:
Solutions Finder is an interactive question and answer segment that will point visitors to their perfect solution in a matter of minutes.
Virtual Tour enables visitors to have a good look at MicroSourcing's office and facilities as well as meet some of the staff and get a feel for the company's atmosphere and culture.
Live Chat available 24 hours a day to answer visitors' questions in real time.
Information Library providing information on outsourcing, offshoring and the Philippines to assist those who are new to offshore outsourcing.
News & Blog frequently updated news and commentary providing tips and resources for business owners.
As a company that prides itself on its pricing transparency model, the website also provides detailed information on the costs associated with various services, clearly outlining how clients' dollars are allocated.
Founded in 2004, MicroSourcing currently has more than 1600 employees servicing clients from a diverse list of industry sectors. The company operates across a wide variety of disciplines including:
IT & Internet including web development, software development, mobile app development, search engine optimization, search engine marketing, social media marketing and technical support.
Creative Services including web design, graphic design, ad design, print and prepress, flash design, animation and 3D modeling.
English Language Services including customer support, telemarketing, copywriting, transcription, proofing and editing, content moderation and game moderation.
Back Office Services including data entry, data processing, HR and recruitment, finance and accounting and personal assistance.
Facebook: http://www.facebook.com/MicroSourcing
Twitter: http://www.twitter.com/MicroSourcing
About MicroSourcing:
MicroSourcing is an offshore outsourcing solutions provider which specializes in setting up, hosting and managing offshore operations in the Philippines on behalf of foreign companies from all over the world. Offshoring through MicroSourcing helps clients reduce their costs, increase their operational flexibility and greatly expand their global reach.
MicroSourcing's service delivery models are tailor-made to service any type of organization, from entrepreneurs and small to medium-sized businesses to large multinational corporations
MicroSourcing.currently has 1600 employees servicing 60 clients from three state-of-the-art delivery centers in Manila, which operate 24 hours per day, 365 days per year.
For more information, visit: http://www.MicroSourcing.com.
###