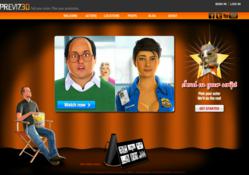 Clients can virtually be in the studio with the camera and performer, from remote locations.
Fort Lauderdale, FL (PRWEB) July 28, 2011
One of the leading vendors in the production and delivery of animatics and test spots, Animaticmedia launched a new website, Previz3d, that promises to deliver a quicker and more beneficial way for clients to not only pick and choose digital actors for their test commercials but remotely monitor and direct live actors in motion capture sessions online.
As Founder, CEO, and Creative Director of Animaticmedia Scott Ownbey puts it - "Our goal was to give our clients complete transparency in being able to access all of the company's 3D assets, speed up the production process and reduce costs. With Previz3d.com, we have done that by bringing our clients into the production process as virtual interactive participants."
On the Previz3d.com website, both visitors and clients alike are presented with a wide range of pre-rigged characters with wardrobe, hairstyle and prop options. Characters include adults and children in a variety of ethnicities with accompanying pets.
"We have made creating custom character(s) as easy as creating your own avatar in a video game at home. Simply visit the website, find the character(s) you want, then choose their hairstyle, clothes, and accessories," says Lead Flash Developer Antolin Partidas. "And, if one of our clients wants something a little more specific that they don't see in our collection, all they have to do is ask and our in house team of 3d artists can make it for them."
After the outer appearance has been pre-visualized and selected the character is saved in the client's account page and then the motion capture phase begins.
Using revolutionary collaboration technology, Animaticmedia will live stream an actor's motion capture performance directly over the web to anywhere in the world. Previz3d.com users are immediately be given the ability to become active participants in the production of their own content. That is where the pre-visualization in their "previz" technology stands out and comes into play.
"Whether our clients are a world away, or just down the street they can direct the action from any online connection," remarks Chelsie Hoxby, Animaticmedia and Previz3d's European representative.
Hoxby explains that "Clients would virtually be in the studio with the camera and performer.
Interaction at this level, from remote locations, is an unprecedented hands-on approach to developing 3D animations. Now we can give our clients the chance to actively direct and produce their own content by engaging with the motion-capture production team, and pre-visualizing the content, in real-time. If the client wants the actor to tilt their head, it's instantly done. Think they need to change the way an actor walks? Not a problem. We wanted to give our clients a quick turnaround time, with an unheard of level of flexibility and this definitely gives it to them."
To see this process in action visit:
http://www.agencyartanimation.com:89/iasblognew/?p=1218
Previz3d is an Interactive Art Services Company which has been serving the advertising industry since 1999, combining leading artistic talent and the latest in collaboration technology. The company has multiple websites to service clients, namely Storyboards.com and Animaticmedia.com. The company enjoys worldwide recognition for the quality of its service and work with office locations in London, Los Angeles, Fort Lauderdale and Manila.
For additional inquiries and/or a more detailed, personal, one-on-one demonstration, please free to contact CEO Scott Ownbey at 954.462.4000.
FORT LAUDERDALE
434 NW 1st Avenue. Suite 503
Fort Lauderdale, FL. 33301 USA
T: +1.954.462.4000
F: +1.954.462.4516
LOS ANGELES
1907 W Burbank Blvd. 2nd Floor
Burbank, CA. 91506 USA
T: +1.818.842.0800
F: +1.818.842.0864
LONDON
14 Rosebery Avenue, London
EC1R 4TD
T: +44 (0)203.372.4013
F: +44 (0)207.903.5333
###