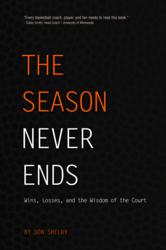 Minneapolis, MN (PRWEB) July 29, 2011
As Tubby Smith (Head coach at The University of Minnesota) aptly states, Don Shelby has written a modern classic on the game of basketball and life lessons learned on the court. While on camera, Shelby was recognized as one of the nation's best local news anchors. Off camera, he played a less recognizable role as a player, coach, fan, and advocate for the game he's loved since a child—basketball. The Season Never Ends are a collection of stories that were written over a 26 year period of time, using the same humor and compassion that made him a legendary news anchor.
Ostensibly, these charming stories are about basketball, but readers will quickly see The Season Never Ends is about much more. They are life lessons that come from a broadcaster who has covered notable and historic events, a journalist whose career has brought him around the world and a man who traces all of his success back to the basketball hoop in his parent's driveway in Muncie, Indiana. It's where he learned he wanted the ball in his hands when any game, of any kind, is on line. It's also one of the many life lessons he shares in The Season Never Ends.
Going well beyond the basketball court, The Season Never Ends, follows in the footsteps of films like Hoop Dreams and Hoosiers and John Wooden's classic book They Call me Coach. Thirty stories gleaned from his youth in Indiana, coaching his daughters and tales he's picked up along the way, The Season Never Ends spans generations and is relatable to anyone of any age and any background.
Don Shelby was born in Muncie, Indiana. He was the starting point guard for Royerton High, where he lead the team in assists and the 1965 Delaware County Championship, scoring 25 points in the championship game. In 2003, he was inducted into Indiana Delaware County basketball Hall of Fame. He was also inducted into the Women's Basketball Hall of Fame. Off the court, he was a news anchor and journalist at WCCO in Minneapolis, MN where he won three Emmy's, Two Peabodys and was inducted into the Minnesota Broadcasters Hall of Fame.
###