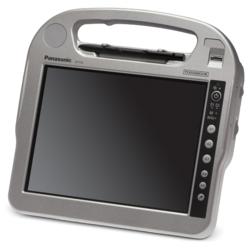 Panasonic has done a great job of enhancing the Toughbook tablet to make it faster without sacrificing battery life or adding to the weight of the device
Chandler, Arizona (PRWEB) July 28, 2011
Group Mobile, well known for carrying the top brands in rugged laptops, rugged tablet PCs, rugged PDAs, and rugged handheld computers has added the latest rugged Panasonic Toughbook rugged tablet to its product offerings. The Toughbook H2 next-generation tablet includes an enhanced processor, increased RAM and hard drive capacity, I/O ports and a screen that delivers exceptional viewability in all lighting conditions.
The Toughbook H2 is powered by an Intel® Core™ i5-2557M vPro™ processor for faster speeds and enhanced device management. The H2 also comes standard with 4GB RAM, expandable to 8GB, and a 320GB 7200rpm hard disk drive, with an optional 128GB solid state drive available.
The Toughbook H2 weighs only 3.5 pounds (with integrated handle, molded hand strap, and both batteries) and is designed to MIL-STD-810G and to IP65 specifications to protect against environmental conditions and accidental situations, such as bumps, drops, or exposure to wind, heat, and rain. The Toughbook H2 delivers 6.5 hours of battery life and includes fast charging twin hot-swappable batteries that allow for virtually unlimited use, maximizing up time.
"Panasonic is committed to providing our customers the ultimate in performance, mobility and connectivity," said Kyp Walls, director of product management, Panasonic Solutions Company. "The Toughbook H2's enhancements are designed to provide mission-critical workers with additional functionality and computing capabilities. The H2 maintains the same level of durability as the previous models and continues the H1's industry-leading reliability of less than one percent annualized failure rate."
The Panasonic Toughbook H2 has a 10.1-inch, dual-touch display offering both digitizer and touchscreen functionality. The display also features Panasonic's TransflectivePlus display technology, which can generate up to 6000 nit of transflective brightness, in addition to a circular polarizer, plus anti-glare and anti-reflective screen treatments, making it easily viewable in direct sunlight.
The Toughbook H2 offers a variety of integrated wireless technologies, including Wi-Fi, Bluetooth® and optional Gobi2000™ 3G mobile broadband technology from Qualcomm. The H2 rugged tablet is certified on the Sprint and Verizon Wireless 3G networks (others to be announced later in the year), allowing workers to stay connected nearly all of the time. The Toughbook H2 will also offer embedded support for 4G networks (certifications coming later this year).
The Toughbook H2 includes optional integrated features like barcode and RFID readers, camera and GPS receiver to enhance worker productivity, and fingerprint readers and SmartCard readers to ensure that critical data is kept secure. Additional accessories for the Toughbook H2 include carrying cases, shoulder straps, power adapters, charging cradles and a Toughbook-certified vehicle dock.
"Panasonic has done a great job of enhancing the Toughbook tablet to make it faster without sacrificing battery life or adding to the weight of the device," said Richard Lawson, President of Group Mobile. "The Toughbook H2's more powerful processor and improved performance will allow mobile workers to multi-task with great efficiency while in the field."
The Toughbook H2 rugged tablet can be ordered from Group Mobile now. For more information on the rugged Toughbook H2, visit http://www.groupmobile.com/product.asp/sku=4395/dept_id=/mf_id=1.
About Group Mobile
Headquartered in Phoenix, AZ, Group Mobile serves customers all over North America. Customers range from Fortune 500 companies and the U.S. Military, to local police/fire/ambulance, to small and mid-size businesses, to the frequent traveler that needs something more durable than a commercial, off-the-shelf computer. Group Mobile carries all the leading rugged computing brands. In addition, Group Mobile offers vehicle docking and mounting equipment from Gamber Johnson, Ram Mounts, Jotto Desk, and Havis/Ledco. To learn more about rugged computers and how they differ from commercial, indoor computers, check out the Rugged Computer Guide or visit us online at http://www.groupmobile.com.
###