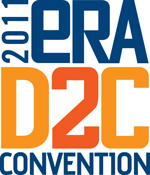 "Katie Williams is a true visionary who has paved the way for many of today's successful direct-response marketing professionals."—Julie Coons, ERA President & CEO
Arlington, VA (PRWEB) July 28, 2011
The Electronic Retailing Association (ERA) announced that Katie Williams, president of Ideal Living, has been named the 2011 Lifetime Achievement Award recipient. She will be honored during a special presentation at the Moxie Awards Gala on Thursday, Sept. 15th, 7:00 p.m. – 9:30 p.m., at the 2011 ERA D2C Convention at the Wynn Hotel, Las Vegas.
This recognition, which is not awarded every year, is presented to a deserving member whose work has had a demonstrable impact on the industry and has been acknowledged as doing so by other colleagues in the industry and the general public. Williams will join past honorees: Billy Mays, Earl Greenburg, Rob Woodrooffe, Tim Hawthorne, Greg Renker, Joe Segel, Suzanne Somers, Mike Levey and Ron Popeil.
"Katie Williams is a true visionary who has paved the way for many of today's successful direct-response marketing professionals," says ERA President & CEO Julie Coons. "She's made significant contributions to this industry and the association as an enterprising business leader, founding ERA member and former member of the Board of Directors. It's evident that the industry and her peers believe Katie is quite worthy of this prestigious honor."
"I am deeply touched by this award, and most of all, I am grateful to ERA and to the many wonderful people—my team, mentors, clients, friends—to whom I owe my success," says Williams.
Williams began her direct response career in 1984 when another industry pioneer and entrepreneur, Ed Beckley, recruited her to handle marketing in his Fairfield, Iowa, and Chicago offices. She quickly learned the intricacies of this fairly new form of marketing, called direct response TV, and eventually formed her own company, Williams Worldwide Inc., in 1987. As the founder and CEO, Williams created one of the first and foremost agencies to specialize in direct response TV solutions to marketing problems, which grew to $130 million in billings. In 1992, she expanded into global marketing, forming another company, Williams Worldwide Television, becoming a leader in international marketing direct to consumer via direct response TV and other channels of distribution worldwide.
Williams was named "Entrepreneur of the Year" for the city of Los Angeles in 1991. Her company was ranked the number one woman-owned business in Los Angeles County in 1993, and among the top 5 for four consecutive years by the Los Angeles Business Journal, and was chosen by Working Woman Magazine as one of the top women-owned companies nationwide for two consecutive years.
She sold Williams Worldwide in 1999, and Williams Worldwide Television in 2006.
From 1999-2000, she was involved in two start-ups: iz.com as senior vice president of marketing strategy and as CEO of Team360. In 2003, Williams became senior vice president international development at Sylmark Inc., where she was tasked with setting up and overseeing product development, quality control and manufacturing in China. She became president of Sylmark in 2006, particularly focusing on its vision, strategy, and direct marketing operations and helping evolve the company into a leading multichannel marketer and builder of lasting brands.
For more information about the Moxie Awards Gala or to purchase tickets, please visit http://www.D2Cshow.org.
About the 2011 ERA D2C Convention
The Electronic Retailing Association's 2011 ERA D2C Convention is the 21st annual show where the industry's top technology innovators, manufacturers, buyers and marketers meet to learn about the hottest trends in the direct-to-consumer marketplace and meet with partners and potential customers to seal critical business relationships. The event will feature more than 4,000 attendees and 120 exhibitors, a variety of education sessions on industry-related topics and expansive networking opportunities, as well as wide variety of events on the tradeshow floor. For more information, please visit http://www.D2Cshow.org.
About the Electronic Retailing Association
Representing a more than $350 billion market, the Electronic Retailing Association (ERA) is the only trade association in the U.S. and internationally that represents leaders of the direct-to-consumer marketplace, which includes members that maximize revenues through electronic retailing on television, online and on radio. ERA strives to protect the regulatory and legislative climate of direct response, while ensuring a favorable landscape that enhances e-retailers' ability to bring quality products and services to the consumer. ERA members include some of the industry's most prominent retail merchants, including Acorn Corporation, eBay, Discovery Communications, Gaiam, Google, Guthy-Renker Corporation, HSN, Jewelry Television, QVC, ShopNBC and Thane. For more information about ERA, please visit http://www.retailing.org.
Media Contact
Vi Paynich
Content Manager
Electronic Retailing Association
Tel. 909-606-3406
vpaynich(at)retailing(dot)org
# # #