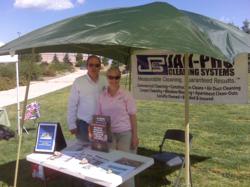 Catamount Institute saluted Jan-Pro for setting direction for a sustainable community, as the company is recognized as being Green in Fact and Deed.
Colorado Springs, CO (PRWEB) July 28, 2011
Jan-Pro of Southern Colorado, master franchise of Jan-Pro International, Inc. (Jan-Pro), an established global leader in commercial cleaning, today announced that the company has been recognized by the nationally renowned Catamount Institute, as being the only commercial cleaning member of the Pikes Peak Sustainable Business Network.
Catamount Institute saluted Jan-Pro for setting direction for a sustainable community, as the company is recognized as being "Green in Fact and Deed." Jan-Pro of Southern Colorado achieved this recognition through many practices. For example, the company's training, in which all of their franchisees enroll, teaches state-of-the-art cleaning techniques, exceeding OSHA standards.
EnviroShield, an exclusive Jan-Pro disinfectant system, is a hallmark of Jan-Pro's high ecological standards. The spray disinfectant system is rated Category IV, which means there is no toxicity or side effects. And yet, EnviroShield is a system that delivers 100% disinfection coverage.
"One of the gyms we service had a client who came down with the measles," said Robb Posch, VP of Strategic Marketing Jan-Pro. "The gym owner knew the effectiveness and safety of the Jan-Pro EnviroShield Disinfectant System, and asked us to do an emergency application. The gym was disinfected... and open the next day, with no shutting down, no loss of business. And the best part was there was no form of a measles outbreak!"
Being recognized for environmentally leading practices is only one of Jan-Pro of Southern Colorado's many accolades. An Award-Winner of the Colorado Springs Diversity Forum, Jan-Pro of Southern Colorado is the only disadvantaged woman-owned cleaner in Southern Colorado. Additionally, the company maintains an A+ rating by the Better Business Bureau, and in 2010 the BBB recognized Jan-Pro for Excellence in Customer Service.
"A healthy, clean environment is absolutely a paramount goal of our company," continued Posch. "Everyday we set out to achieve that goal for our clients through the dedication of our people, and the application of superior green products and systems of Jan-Pro. We thank the Catamount Institute, as well as the Diversity Forum and the BBB for recognizing our efforts."
About Jan-Pro International, Inc.
Jan-Pro was founded in 1991 by Jacques Lapointe in Providence, Rhode Island, with a desire to offer the highest quality cleaning techniques and systems available. Currently, the Jan-Pro team is comprised of business leaders with experience around the world, as well as seasoned cleaning industry executives. Today, company structure is comprised of Master and Unit franchisees. Jan-Pro regularly receives inquiries and accolades from around the world, including just being selected as a 2011 Military Friendly Franchise by Vetrepreneur Magazine, the official magazine of NaVOBA (National Veteran Owned Business), distributed to over 90,000 military veterans worldwide.
To learn more, visit the Jan-Pro website at http://www.jan-pro.com.
SOURCE: Jan-Pro International, Inc.
INFORMATION: http://www.jan-pro.com
Media: mike(at)thecreativestorm(dot)com
(513) 234-0560
# # #