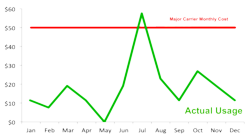 Los Angeles, CA (PRWEB) July 28, 2011
There's a new mobile data service with groundbreaking pricing that is poised to rock the world of the business professional/entrepreneur—TruConnect Mobile.
TruConnect offers a breakthrough-pricing alternative where users pay only for the data they consume. With this flexible, simple and honest service an entrepreneur or business professional pays $4.99 a month plus 3.9 cents a megabyte for their wireless data. No contract, no activation fees, no monthly bill. No bundled data plans, no expiration, no overage charges.
Business professionals and entrepreneurs know the difficult tradeoffs that come with mobile Internet data service. They already pay for smartphone data and office WiFi connections. And most of the time that's enough, but occasionally they need wireless data access for laptops or iPads to stay in touch when out of the office. Does that mean subscribing to yet another $50-$80 mobile data plan? Not now – with TruConnect's service users are always connected, but only pay when they use the service!
TruConnect is the "ultimate unbundle" —perfect for the business professional who needs occasional wireless access. It runs on the nationwide Sprint network, covering 97% of the U.S., and is available using either a USB device for a laptop or the MiFi that wirelessly connects up to five computers, iPads and other WiFi devices.
The average businessperson can save up to $600 over a standard two-year contract with major carriers. With bottom line profitability so important, it's frustrating to pay for wireless service that is only used occasionally and then watching unused megabytes disappear at the end of the month.
Today's other low-cost alternative to connect while out of the office is to use free WiFi in local coffee shops and restaurants. But increasingly, public WiFi is not a secure way to send data.
TruConnect is a completely safe data connection with a disruptive new pricing model that fits the lifestyle of the sporadic mobile Internet user. It gives business people peace of mind that they can be connected whenever they need to be, without wasting money on unused service.
More information is at http://www.truconnect.com.
Real Life Use Cases
Anneliese, an academic tutor and college advisor, works during the school year and is off during the summer. She travels to her clients' homes and uses her iPad between appointments to research colleges and download student papers to review. She couldn't afford to pay for her smartphone data plan and a second data plan for her iPad, especially since she doesn't use the iPad during the summer. With TruConnect, she pays less than $15 a month to stay productive between appointments. In addition, she is able to suspend her service during the summer for free, thus saving an additional $100 she would have had to pay for those months under a typical two-year data plan.
Jeff is a single-attorney corporation. He has WiFi in his office, but needs to be in court several times a month and can be out of the office for days at a time when he is in trial. He has to have mobile Internet access when he is in court to research his cases. Usually he uses very little data and ends up paying for data he hasn't used, but when he is in trial he often goes over his monthly allotment and is forced to pay the overage fee. Now he has TruConnect and is saving money. The months that he only uses very little data he only pays a few dollars, and the months he uses a lot of data he doesn't have to pay the expensive overage fees.
Kevin, CEO of a high tech company, is an avid reader and loves to stay connected with his iPad. Although the iPad has 3G capability, he has never activated the data plan because most of the time he is in WiFi range and the mobile data plan is expensive. He was recently on holiday with his wife and spent much of the time on the beach reading and relaxing. His TruConnect plan was perfect, as he was able to connect his iPad to the Internet while enjoying the sun and surf. His total bill was about $8 for mobile data usage while on vacation, versus the alternative of paying for a monthly data plan that he would only use sporadically.
Rick, an entrepreneur with an Internet e-commerce business, is on a secured home or work WiFi network during the week and does not have a need for mobile data access. Rick is a devoted dad who travels to his daughter's volleyball tournaments on weekends and between games he has time to check email, do research for upcoming projects and connect remotely with his college-aged son to help him complete his tax return. About an hour of this type of work consumes 15 – 20 megabytes of data, costing him less than a dollar on his TruConnect plan. Even with the $5 access fee, his monthly bill for using his TruConnect almost every weekend is less than half what he would pay for a typical mobile data plan.
# # #