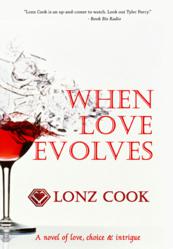 Captures your interest page after page.
Atlanta, GA (PRWEB) July 29, 2011
Cook debuts his recently released novel When Love Evolves to a host of fans who have long-awaited his arrival. Lonz realizes New York readers are key to any author landing on the prestigious New York Times Best Sellers list and he's eagerly pursuing such distinction. Lonz is winning readers daily throughout the country and accepts New York as the greatest challenge. If he wins new interest in New York, there is a chance at winning readers around the world. The book signing takes place Thursday, August 4th, 7 p.m. to 9 p.m., at the Walt Whitman Barnes & Noble Booksellers, 380 Walt Whitman Road Huntington Station, NY 11746.
When Love Evolves—published by Sterling and Ross Cambridge House publishers—is a love story that distinct plot unfolds in Richmond, VA. Unlike the traditional romance novel, When Love Evolves explores a more dramatic plot, involving suspense, passion, rage and the mafia. Written from a male's perspective; When Love Evolves is a one-of-a-kind romance novel that grips readers from beginning to finish. "It would be an honor to meet and read excerpts from my newly released novel, share insight to creating a great story, and answer any questions," said Cook with an inviting smile.
Lonz Cook is a Marine Corps veteran, adjunct professor of management at Keller School of Management, DeVry University, and a technology pro has written professionally for years. As a sports coach, he used his talent to transcribe game highlights as a military battle. His creativity helped fellow service members passionately communicate with loved ones during deployments. Lonz has written scripts and narrated training tapes for military personnel. His technical writing abilities were instrumental in the training of many service members. He lives in Atlanta.
###