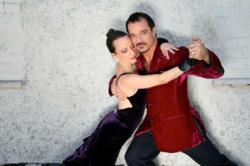 Sidney Grant and Gayle Madeira won the 2011 USA Tango Championship and donated the winning proceeds to Ballroom Basix, a not-for-profit, noncompetitive, arts-in-education initiative committed to the enhancement of students' educational, social and fitness
New York, NY (PRWEB) July 28, 2011
Sidney Grant and Gayle Madeira, professional dancers based in New York City, recently won the 2011 USA Tango Championship. The Championship is held every year in New York City in July as part of the Celebrate Tango Festival. Argentine Tango is one of the most difficult dance forms to master. Sid and Gayle competed in the challenging "open salon" category in which the dances are entirely improvised. The judges (including renowned tango stars Nelson Avila from Tango Argentino and Jorge Torres from Forever Tango) chose the music and the competitors had no knowledge of what music they would dance to. The competition in this category is fierce and includes dancers from other parts of the world as well as the United States. This year there were several Argentines competing as well. There are both semifinal and final rounds and the process is grueling, taking several hours to complete.
Sid and Gayle donated all of their proceeds to Ballroom Basix, a not-for-profit arts-in-education initiative that brings the "fun, fitness & fancy footwork" of ballroom and Latin dancing non-competitively to schoolchildren. Sid is the director and founder of Ballroom Basix and created the organization over a 3 year period in Harlem, after serving as co-Artistic Director of Pierre Dulaine's American Ballroom Theater Youth Company for 7 years. Mr. Dulaine's story was fictionalized in the film Take the Lead, starring Antonio Banderas, with whom Grant's performance troupe appeared on The Today Show to promote the film. Grant also appeared in the documentary Mad Hot Ballroom which featured him in his role as a senior teaching artist. 
Sidney resigned from Dulaine's Dancing Classrooms after 7 years, going on to create his own unique syllabus and methodology that focuses on the joy and etiquette of social dancing, enabling each student to dance -- rotationally and respectfully -- with every other student regardless of shape, size, ability or popularity, thereby fulfilling the Ballroom Basix motto: "making manners matter...one step at a time!". He is committed to the expansion of this non-competitive model so that no student is rejected or excluded, and was just endorsed as the official and exclusive offering by the New York City Department of Education's middle school CHAMPS programming, the first time a ballroom arts residency has been sanctioned in the DOE's history and offered as a sports & arts activity.
Also known as Doctor Dance, Sidney's career has spanned over two decades of dedication to the art of social dancing, specializing in Argentine Tango. After capturing the Novice Professional title at the Fred Astaire Championships in Atlantic City in 1990, Grant quickly realized that social dance was his true calling. Teaching young and old alike in a variety of settings (studios, schools and senior centers, as well as corporate and private events) Sid is in constant demand for his unique instruction and performance. His passion for partner dancing has enabled him to build a worldwide clientele, including choreographing hundreds of wedding couples' first dances. He was valedictorian in the School of Journalism and Communication at Rutgers College, and holds Certificates from both NYU and The School of Visual Arts.
Gayle Madeira has danced for 36 years and attended the prestigious Conservatory of Dance at Purchase College. She is an award-winning painter, dancer and choreographer based in New York City for the past 18 years. She toured extensively as a dancer, choreographer and teacher, both nationally and internationally, with a number of ballet and modern dance companies including her own. Gayle was also the USA Tango Champion in the stage category in 2008 with another partner Lexa Roséan . Her paintings are included in numerous private and institutional collections and have been exhibited in several galleries.
Together, Gayle and Sid have created innovative, costumed choreographies, including "Tin Man Tango" and "Tango In Wonderland." They look forward to performing and teaching in many venues in the coming year and bringing more attention and support to Ballroom Basix and other worthy charities that further dance and peace in the world.
Gayle Madeira website: http://www.gaylemadeira.com
Ballroom Basix website: http://www.ballroombasix.com
Sid Grant website: http://www.weddingdanceroutine.com
# # #