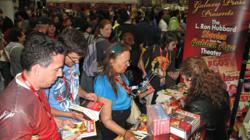 I love illustrating action and adventure stories and no one wrote them better than L. Ron Hubbard.
San Diego, CA (PRWEB) July 28, 2011
While Comic-Con has become increasingly known for its movie and gaming affiliations, fans shopping for books appeared to be on the increase says John Goodwin, president Galaxy Press who has been attending Comic Con since the mid-1980s.
"I have been attending Comic-Con for 25 years now, featuring the fiction works of author L. Ron Hubbard, and there has never been such high demand for his books as we saw this year," stated Goodwin. Galaxy recently announced having broken the one million sales mark of their recently released line of Hubbard's pulp fiction works entitled Stories from the Golden Age, (http://www.goldenagestories.com) fiction short stories, novelettes and novellas written during the 1930s and '40s and using the cover art from the pulp magazines the stories were initially printed in. "The cover art for our books attracted new fans of all ages while existing fans returned for newly re-released titles ranging from his mystery and thriller, to science fiction and fantasy, to adventure and western," Goodwin continued.
World renowned artist, Frank Frazetta, who Hubbard referred to as "the king of illustration" was also a fan of Hubbard's stories, "I love illustrating action and adventure stories and no one wrote them better than L. Ron Hubbard." Having several Frazetta prints of Hubbard book covers as well as cover art for the Writers of the Future series on hand (http://www.writersofthefuture.com), resulted in art enthusiasts flocking the booth as well.
"With this increase in interest in books, we look forward to returning to Comic-Con again next year," concluded Goodwin.
About L. Ron Hubbard
Born on March 13, 1911 in Tilden, Nebraska, L. Ron Hubbard was one of America's most prolific writers of popular fiction producing over 18 million words of fiction with a writing career that spanned over five decades. During the 1930s and 40s he authored more than 250 short stories, novelettes and novels under his own name and any of his 15 pen names at a production rate of about 100,000 words a month. His published works from that era encompassed adventure, detective, science fiction, western and fantasy work and can be found at http://www.goldenagestories.com.
###