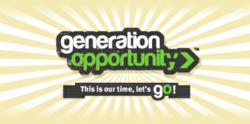 79% of young Independents Say Decrease Federal Spending
Washington, DC (PRWEB) July 28, 2011
Generation Opportunity, the new, non-profit, non-partisan organization educating, engaging, and mobilizing young Americans 18-29 years old on the immediate and long-term economic challenges facing the nation, such as the lack of job opportunities and increasing debt and federal spending, is releasing new data today on the views of young Americans ages 18-29 who are self-identified Independents.
The views of Independents are a significant indicator of the general direction, outlook, and overall mood of the American public during national debates on issues of consequence. As Washington debates the debt ceiling and federal spending in the midst of an economic crisis and high youth unemployment, the Generation Opportunity polling data provides important insight into the concerns and solutions favored by young Americans (18-29) who identify themselves as Independent.
"Concerns about unemployment and the poor economy cloud the future of every young American working hard to make ends meet, regardless of political party. The majority of young adults, including self-identified Independents, believe less federal spending and less government interference with job creators will lead to more economic opportunity and a more optimistic future for America," said Paul T. Conway, president of Generation Opportunity and former Chief of Staff at the United States Department of Labor. "Young Americans have the demonstrated ability to shape the future course of the country — the next path they choose will be determined by their assessment of how well those they elected work to expand opportunity, not government spending and interference."
SELF-IDENTIFIED INDEPENDENTS 18-29 BY THE NUMBERS:
Generation Opportunity recently commissioned a poll with the polling company, inc./WomanTrend (April 16 – 22, 2011, +/- 4% margin of error) and highlights of results for Independents appear below. "Independents" includes or refers to "All Independent Groups" - including self-identified "Independent," "Independent Leaning Republican," and "Independent Leaning Democrat."
Independents 18-29 on Federal Spending/Business Creation/Job Creation:

79% would decrease federal spending from its current level, while only 17% would increase federal spending.
59% agree that the economy grows best when individuals are allowed to create businesses without government interference.
55% agree that if taxes on business profits were reduced, companies would be more likely to hire.
Independents 18-29 –Direction of the U.S./Leaders in Washington, D.C./China:

59% believe the United States is pretty seriously on the "wrong track," while only 22% say the United States is headed in the "right direction."
60% do not think we have the right leadership in Washington.
74% do not think today's political leaders reflect the interests of young Americans.
79% believe China poses an economic or both an economic and military threat to the United States.
Independents 18-29 on Election 2012 – What Matters:
61% indicated that in 2012 a candidate's position on issues and a record in office will be most important when casting their vote - only 4% indicate a candidate's charisma and likeability is most important.
60% agree that young voters in 2012 will learn more about the policy positions of the Presidential candidates than they did in 2008.
ABOUT GENERATION OPPORTUNITY
Generation Opportunity is a non-profit, non-partisan 501 (c)(4) organization that seeks to engage everyone from young adults, to early career professionals, college students, young mothers and fathers, construction workers, current service men and women, veterans, entrepreneurs and all Americans who find themselves dissatisfied with the status quo and willing to create a better tomorrow.
Generation Opportunity operates on a strategy that combines advanced social media tactics with proven field tactics to reach Americans 18-29. The organization announced its first communications platform – "Being American," a Facebook page that has already amassed a fan base of more than 860,000. The page posts links to relevant articles and reports from sources ranging from the federal General Accountability Office (GAO), to The New York Times, The Washington Post, The Brookings Institution, The Wall Street Journal, The Huffington Post, and The Heritage Foundation.
Read about Generation Opportunity here and visit "Being American" on Facebook by clicking here.
For our Spanish-language page – Generación Oportunidad – click here.
# # #