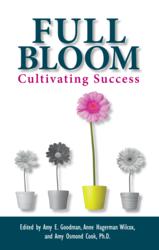 If you want to be successful, this book is a must-read!
Mobile, Alabama (PRWEB) July 28, 2011
Distinguished Young Women is the largest and oldest national scholarship program for young women, boasting of alumnae such as Dianne Sawyer, Deborah Norville, Kathy Lee Gifford, and Debra Messing. Since the time of its creation in 1958, Distinguished Young Women has provided $93 million in cash scholarships at the local, state and national levels. In addition to cash, participants are eligible for college-granted scholarships from almost 200 colleges and universities. Just last year, more than $108 million in college scholarship opportunities were provided to program participants.
The recently released FULL BLOOM: CULTIVATING SUCCESS, attests to the power of this program to change lives and help young women succeed in college and in life. FULL BLOOM is a compilation of essays written by former Distinguished Young Women program participants who are now leaders in their various professional fields. They offer practical and sage advice about how to define and cultivate success, like

What NEVER to say to your professor if you want an A;
How to define success on your own terms;
How to find a great guy to date;
How to work the room in a social situation; and
How to find great scholarships.
National winner Kayte Brock is currently touring the country promoting the Distinguished Young Women scholarship program and FULL BLOOM: CULTIVATING SUCCESS.
About National Winner Kayte Brock
Tennessee's Kayte Brock competed with 49 other state scholarship winners to earn the program's top recognition as the Distinguished Young Woman of America for 2011. Among the state representatives, the average GPA was a 4.0; and the average ACT score was a 30. In addition to evaluating their scholastic achievements, participants also took part in fitness, interview, self-expression and talent components of the competition to find the young woman who best represents the program's motto of "scholarship, leadership, talent." Kayte is currently using her more than $50,000 in scholarship money to attend University of Tennessee-Knoxville, where she is pursuing a degree in International Studies.
For more information about Distinguished Young Women, FULL BLOOM: CULTIVATING SUCCESS, or Kayte Brock's speaking engagements, please contact Stephanie Bradford at 251-622-5335 or stephanie(at)distinguishedyw(dot)org.
###