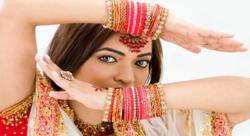 Indian jewelry is graceful and sensual
New Delhi, Delhi (PRWEB) July 30, 2011
July 29, 2011: ShalinIndia has launched a range of sterling silver and gemstone jewelry for its global customers in the Amazon Marketplace in the US and Europe. The designs of the jewelry have been carefully chosen to meet the fashion trends for summer 2011.
"Indian jewelry is graceful and sensual . Colorful gemstones studded in sterling silver make the jewelry especially suitable for summer. Keeping in mind forecasted color and fashion trends for summer 2011, we offer to our online customers jewelry that give a vibrant and youthful appearance to women of all ages", says Shalini Verma, founder of ShalinIndia.
"We offer jewelry to embellish different parts of the body, from head to toe: earrings, necklaces, armlets, bracelets and bangles, rings, belly-chains, ankle bracelets and toe-rings, handcrafted by the famous hereditary artisans of Jaipur in the state of Rajasthan. The design and motif vocabulary of Indian silver jewelry is as vast and varied as its ethnic and geographical diversity. The single largest design inspiration comes from nature. While making design choices, we carefully selected designs that instantly look Indian and yet have an universal and timeless appeal," added Shalini Verma.
"There is a widespread belief in India that silver has cooling properties, which makes it especially suitable for summer. Silver is also the least expensive of all fine jewelry metals. That explains why silver jewelry is so popular among Indian women. In fact for all casual parties and get-togethers, or everyday situations, more and more Indian women seem to prefer silver to gold or platinum," says Shalini Verma.
When asked why she had chosen to first launch her new jewelry range in the Amazon Marketplace, Shalini Verma explained, "Some of our most discerning customers have actually come through Amazon as they feel that shopping at this platform is risk free due to product and service guarantee programs. Besides, we are used to selling to Amazon customers not just in US, but also in UK, France, Germany, and very recently in Japan too. It was the ease of reaching out to large number of potential customers that made me choose Amazon for first launching my summer collection of Indian silver jewelry."
ShalinIndia is one of India's trusted online shopping brands and besides selling through its own store it also sells through online marketplaces to its global customers. The company guarantees full satisfaction or full refund to its customers. Besides jewelry, ShalinIndia sells ethnic Indian clothing and home decoration products.
###