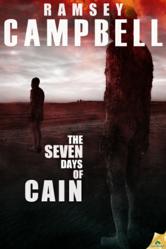 Master horror author Ramsey Cambell will lead the October launch with one new title and four re-releases of his most popular works.
Cincinnati, OH (PRWEB) July 29, 2011
For readers eagerly looking for the latest—and best—in original horror fiction, international publisher Samhain Publishing, Ltd. has announced its October 2011 launch lineup for its new Samhain Horror fiction imprint.
With this highly anticipated launch, Don D'Auria, Executive Editor for Samhain Horror (http://www.samhainhorror.com), seeks not only to serve horror fiction's diverse and loyal audience—but to expand it. "To me, this new line represents the perfect partnership of my enthusiasm and respect for the horror genre with a cutting-edge publishing company known for its innovation and supportive attitude toward authors," D'Auria explains. "Given Samhain's established track record in ebook and trade sales, I can't wait to bring the best horror fiction to an even wider audience than before."
D'Auria recently joined Samhain Publishing from Leisure Books, where for fifteen years he directed the horror line that Rue Morgue magazine called "the champion of paperback horror." Samhain Horror will initially release two new horror fiction novels each month, with additional author features and information available on their website, http://www.SamhainHorror.com. As a special bonus, several of master horror author Ramsey Campbell's previously published titles will be re-released during the October launch event.
The Initial Launch List for Samhain Horror includes:
October:
● The Seven Days of Cain - Ramsey Campbell (original)
● Obsession - Ramsey Campbell (re-release)
● The Hungry Moon - Ramsey Campbell (re-release)
● Dark Companions - Ramsey Campbell (re-release)
● Ancient Images - Ramsey Campbell (re-release)
● Wolf's Edge - W.D. Gagliani
● Angel Board - Kristopher Rufty
● Dead of Winter - Brian Moreland
● Forest of Shadows - Hunter Shea
● Borealis - Ronald Malfi (novella)
November:
● Dark Inspiration - Russell James
● The Lamplighters - Frazer Lee
● Catching Hell - Greg F. Gifune (novella)
December:
● The Sorrows - Jonathan Janz
● Donor - Elena Hearty
About Samhain Publishing
Launched in 2005 with a vision of bringing extraordinary fiction to compulsive readers (who sometimes can't wait for a book to actually be printed), Samhain Publishing is an international publisher of ebook and traditional print fiction. One of the most prominent voices of original ebook fiction, Samhain represents some of today's brightest authors of romance and horror fiction. To learn why at Samhain "it's all about the story…", visit Samhain Publishing online at http://www.samhainpublishing.com.
###