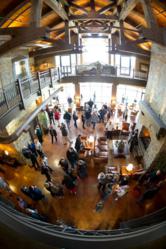 Indulge in breathtaking Northwest beauty, connect with winemakers and chefs and relax into Swiftwater Cellars at Wine in the Pines.
Cle Elum, WA (PRWEB) July 29, 2011
Experience an entertaining and interactive food and wine afternoon with celebrity guests at the fourth annual Wine in the Pines at Swiftwater Cellars, Saturday, August 27. Join hosts Evan Goldstein, Master Sommelier and Leslie Sbrocco, Head Thirsty Girl for an afternoon of "Classic & Crazy" wine and food pairings.
This food and wine seminar will be like no other in its unique approach to experiencing wine and food in a classic and crazy way. The celebrity duo will be joined by a special panel of winemakers who will be on hand to speak about the 10 wines that will be expertly paired with dishes prepared by four Northwest chefs. Featured chefs include Executive Chef Paul Cotta, Hoist House at Swiftwater Cellars, Chef Andrew Wilson, Portal's at Suncadia, Chef Jackie Lo, Wild Ginger and Chef Liam Spence, Tom Douglas' LOLA Restaurant. The American Lamb Board will provide four different cuts of Anderson Ranch farm-raised lamb for the seminar. Reed Anderson of Anderson Ranch and Liam Spence of LOLA are the Shepard and Chef spokespeople for American Lamb Board in the Northwest.
Selected wines for the seminar include: Treveri Cellars Sparkling Wine, Kiona Vineyard 2010 Estate Dry Riesling, Chinook Wines 2009 Sauvignon Blanc, Swiftwater Cellars 2008 Pinot Noir, Hightower Cellars 2007 Merlot, EFESTE 2008 Ceidliegh Syrah, Woodward Canyon 2008 Cabernet Sauvignon plus a mystery wine!
Evan Goldstein, MS is one of the most prolific food and wine industry veterans contributing to many publications (Martha Stewart radio, Williams Sonoma series of Food and Wine Pairings) and author of Perfect Pairings and Daring Pairings.
Wine personality Leslie Sbrocco is host of Check Please! on the PBS network, the regular wine expert on The Today Show, contributing wine writer for the women's special interest publications and leader of the Thirsty Girl movement.
Wine in the Pines is a two-day food and wine celebration held on the grounds of Swiftwater Cellars within the mountainous Suncadia Resort, only 90 minutes from Seattle. Wine celebrity hosts Evan Goldstein, Master Sommelier and Thirsty Girl Leslie Sbrocco will be clinking glasses with attendees throughout the weekend. More than 40 Northwest wineries will offer wine tasting along with local and regional star chefs sampling decadent fare. Other weekend events include Get Into the Swing At Swiftwater, 10 Best of the Northwest Winemakers Dinner; Meet the Maker and the Grand Gala. Live music is featured throughout the weekend.
For tickets and detailed Wine in the Pines event information please visit swiftwatercellars.com. Media interested in touring Swiftwater Cellars, writing about Wine in the Pines or receiving a media pass to one of the events please contact Miranda J. Porterfield Chaney at (509) 952-8608 or Jamie Peha at (206) 661-8243.
About Swiftwater Cellars
Swiftwater Cellars is nestled on the historic Roslyn No. 9 Coal Mine in the heart of the Cascade Mountains. Its unique location within the renowned Suncadia resort makes it a destination within a destination, offering premium Swiftwater Cellars' wines and Pacific Northwest Cuisine, mountain outlooks, championship golf and a private dark sky observation. Swiftwater Cellars is the focal point of Northwest living with European style. It provides a natural sense of mountain elegance and ease ideal for weddings or private events, a venue to reinvent the team spirit of any business or simply, a home away from home to renew in the comforts of fresh air and outdoor activities. Swiftwater Cellars saddles the Cascade Mountains along the Interstate 90 corridor being the ideal location for a quick one-hour plus drive from Seattle or the place to stop on the way to the other side of the state. Phone: (509) 674-6555 / Address: 301 Rope Rider Drive, Cle Elum, WA 98922 / Web: swiftwatercellars.com.
# # #