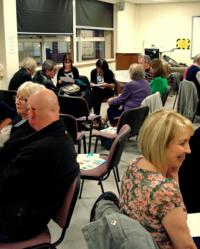 We would like to see more groups established so that many more of the thousands of people who experience tinnitus can gain benefit from others in a friendly and supportive environment.
(PRWEB UK) 28 July 2011
The charity's Talking Tinnitus campaign aims to get people talking about their tinnitus experiences, and tinnitus support groups are considered an ideal place to do so, in the presence of others who experience the condition who can share experiences, advice and coping strategies.
Currently across the UK there are just 32 tinnitus support groups, whereas previously there have been over 120. The dwindling number of groups in recent years has been the result of a number of factors, yet the BTA is hoping to see this trend reversed and is stepping up its active support of the groups.
David Stockdale, CEO of the BTA, said: "People who experience tinnitus can often feel confused about the symptoms and causes, as well as isolated, which is why our Talking Tinnitus campaign is looking to address this problem by encouraging people to talk about their tinnitus experience and to seek help from others who are also affected."
He continued: "We would like to see more groups established so that many more of the thousands of people who experience tinnitus can gain benefit from others in a friendly and supportive environment. Many find that attending a tinnitus group can be an invaluable source of help and support. They can often be a lifeline to some, especially when members of their family or friends are unable to relate to their experience of tinnitus."
Attending a support group, in conjunction with seeking advice from organisations such as the BTA, GPs and specialist tinnitus clinics, is considered a useful way of managing the condition.
Many tinnitus support groups are run by volunteers, the majority of whom experience tinnitus themselves, and are attended by people of all ages. Groups not only organise regular meetings, but can also be active in fundraising for tinnitus charities and in campaigning for better tinnitus awareness and the provision of improved support services within the remit of the NHS. They also may organise speakers on a diverse range of topics such as relaxation, stress management, diet and exercise – all of which can affect the experience of tinnitus – and non-tinnitus related subjects.
Dr Pat Naughton, Chairperson of the Cork Tinnitus Support Group, said: "It is common for members in our meetings to say that the group was the first place they got any real help. Our support role is limited yet vital, and has great potential."
Jenny from Isleworth, who attends the local Tinnitus and Hyperacusis Support Group, is enthusiastic about the benefits of attending. She said: "I find the group sessions very useful. It is good to share experiences, thoughts and feelings. I feel encouraged and I actively try to deal with the feelings that my tinnitus brings. I try to incorporate the advice from the therapists and the suggestions from other group members."
A list of existing support groups is available at http://www.tinnitus.org.uk/directory. Anyone interested in establishing a tinnitus support group should call Krys at the BTA on 0800 018 0527 to find out more about how the BTA can help.
About the BTA
The BTA is an independent charity which supports thousands of people who experience tinnitus and advises medical professionals from across the world.
The British Tinnitus Association strives to be the primary source of support and information for people with tinnitus in the UK, thereby facilitating an improved quality of life. It aims to encourage prevention through its educational programme and to seek a cure for permanent head noise through a medical research programme.
The experienced team at the BTA understands the impact that tinnitus can have on the lives of those who experience tinnitus and those who live with them, so seeks to provides the most appropriate and expert advice and information free of charge – via a confidential freephone helpline on 0800 018 0527 and online at http://www.tinnitus.org.uk. The BTA can also post printed and audio information and advice.
Visit the BTA's Facebook page at http://www.facebook.com/BritishTinnitusAssociation and follow the BTA on Twitter at http://www.twitter.com/BritishTinnitus
For more information
Contact: Zoe Hiljemark, PR Account Director / Jenny Pearce, Senior PR Account Executive
E-mail: zoe(at)marketing-matters(dot)co(dot)uk / jenny(at)marketing-matters(dot)co(dot)uk
Tel: +44 (0) 1202 777111 / +44 (0) 7770 924439
Address: Marketing Matters, Unit C, Acorn Business Park, Ling Road, Poole, Dorset, UK, BH12 4NZ
###