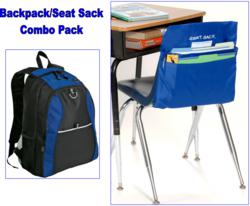 "Involving a child in the organizing process will not only give him / her a sense of accomplishment, but when it is clear just how much work goes into it, there is a better chance of it being kept neat and tidy."~Laurie Pizans
Naples, FL (PRWEB) July 29, 2011
It's that time of year when students and parents begin their quest for pencils, pens, glue sticks and other school supplies. As they attempt to fulfill the required back to school supply list, this can be a time of excitement, but also a time when many students become nervous about going back to school. With a little preparation and organizing tips from the Seat Sack ™ Corporation, parents and teachers can assist children in making a smooth transition into a successful school year.
Whether your child is just starting preschool or a veteran heading off to college, the beginning of the school year can be a stressful period. Creating and modeling organization strategies is the first step in helping to alleviate anxiety. "Involving a child in the organizing process will not only give him / her a sense of accomplishment, but when it is clear just how much work goes into it, there is a better chance of it being kept neat and tidy," states Laurie Pizans a mother of three. At the beginning of the year it is important to develop organization skills by creating a systemized notebook, organizing homework, establishing a study space and a daily schedule as well as keeping communication lines open.
Create a Notebook System
A student needs the right tools and basic study skills to be successful in school. Creating a two system notebook plan helps eliminate clutter, organize weekly work and to create a master study binder. This system consists of a Stay at Home Notebook and a Take to School Notebook, as well as a daily assignment planner.
Stay at Home Notebook
This notebook helps to keep paperwork and materials organized and in one place. Students can easily locate important papers and eliminate carrying unnecessary paperwork. This notebook helps students to summarize work weekly and prepare for tests. At the end of each week, students should remove notes, homework and other papers that will no longer be needed for class and organize them in their stay at home notebook. Parents or teachers should help students set up this system and maintain the materials weekly.
Take to School Notebook
A three- ring binder creates a perfect working notebook. This should be carried to class each day to hold papers, a monthly calendar, four section dividers for each subject titled homework, notes, handouts and quizzes/tests, a daily assignment planner and a pencil/school supply storage zippered storage pouch. The Strap-n-Sack™ is the perfect pencil/school supply storage pouch as it slides onto the outside of the binder creating a storage pocket for pens, pencils, highlighters, a ruler, calculator and other school supplies. The Seat Sack ™ Corporation sells the Strap-n-Sack™ which is accompanied by a 1 inch binder.
At the back of the working notebook a tab listed as reference materials should be kept. In this section handouts, lists of information, and how to lists should be kept in plastic sleeve protectors for quick reference in class. On a daily basis the student should date, and file papers under the appropriate divider for each subject.
Organize Homework
Many schools provide students with a daily assignment planner. This is an essential item for completing homework items on time and successfully. Create a checklist for each subject to help your child organize homework. Students can use the assignment planner for test, project and assignment due dates as well as upcoming school events.
Establish a Study Space
A structured study area that is free from clutter and distraction creates the ideal space that should be solely used for homework. This well lit and organized area should have all of the materials needed for studying on hand before the student begins working. Establish this space and routine on the first day of school. The patented Seat Sack™ storage pocket provides the ideal space for school supplies, books and papers that help to keep a work space free from clutter.
Manage Time
To establish time management and avoid conflicts, create a large monthly family calendar where homework, play time, meetings, sports, projects and study times can be recorded and maintained for quick easy reference. This is the perfect slot to record upcoming tests, project due dates, appointments and vacation days. Family members should reference and review this calendar with the entire family so that each family member is aware of the day's events as well as the upcoming events.
Open Communication
At the end of each school day, create a distraction free, special time when your child can openly communicate to you about the day's events. First, start with open ended questions like, "how was your day or did anything exciting happen today?" As your child learns that you are truly interested in their day, they will begin to share without prompts. After listening to the fun stuff, it is also a great time to take a look at their daily planner and ask about assignments and test that were completed that day or to give them time to share tests, assignments and projects that the teacher may have assigned during class that day.
It is also important to establish a line of communication with teachers before the first day of school and to maintain an open line of communication throughout the school year. This is a great way to find out the teachers expectations, their teaching style and structure, and to find out what type of organizing strategies they will use in the classroom that you might be able to overflow to the home study area.
During the month of August the Seat Sack ™ Corporation is promoting the importance of getting students organized and ready to learn. According to Kelsey Johnson, a Seat Sack™ customer service representative, when a Seat Sack™ customer purchases the Seat Sack™/Backpack combo special; Seat Sack™ will automatically offer a free Strap-n-Sack™ and a 1 inch binder with their purchase. To find out more about this special offer you can visit their website at http://www.seatsack.com.
The Seat Sack ™ Corporation offers practical storage solutions for the home, school and office. They are known for their patented Seat Sack™ chair storage pocket that slides onto the back of a chair to create instant storage for books, papers, school supplies and more. To find out more about the Seat Sack ™ Corporation and the products that they offer, please visit their website at http://www.seatsack.com.
###