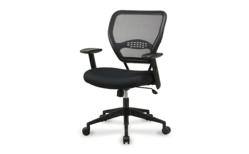 I thought I'd send out a warning to anyone who spends a large amount of time at a desk: do not skimp on your chair!
Beltsville, MD (PRWEB) July 30, 2011
In just a few short weeks millions of college students will be headed back to school, many for the first time. As these students get ready to invest their time, and perhaps their parents money in this important milestone, it might be worth spending just a few extra minutes and dollars setting them up with the right tools for success. At Sit4Less.com our mission is to provide ergonomic, stylish seating options at an affordable price, putting those tools for success within reach. Experts agree, good ergonomics boost student potential.
In the article 10 Things Every Parent Should Do to Help Their College-Bound Kid, authors Jeremy Hyman and Lynn Jacobs put comfortable seating as their number four recommendation. "Splurge on some furnishings. Your child will have a more pleasant college experience – and might study harder, too – if you get him or her some nice dorm accessories. Start with a plush chair and iPod speakers, than move on to a good desk lamp and desk chair. Think of them as 'house warming' gifts." Sit4Less.com carries a huge selection of ergonomic office chairs designed and engineered to maximize productivity by reducing operator fatigue and discomfort. Ergonomic seating enables the user to sit comfortably for the day (or study session), while being supported where the user needs it most. Imagine a chair that curves and supports the shape and movement of the back. By doing so, circulation is improved and clear-minded thinking will ensue. Ergonomic chairs increase productivity and create a positive working environment. Just what a midnight cram session calls for!
These 'house warming' gifts don't have to break the bank. At Sit4Less.com parents and students a like are sure to find the right chair at the right price. Consider the Sit4Less exclusive Space 5500 office chair, which offers pressure-relieving comfort in the exclusive Zero-Force Foam seat cushion. Combined with the form fitting mesh back, providing flexible and ergonomic support, it's a task chair that is built to last at an incredibly low price point of $165. Of course, Sit4Less.com also offers an entire line of name brands such as Herman Miller, Steelcase, Humanscale and Haworth in addition to their house and exclusively co-branded offerings manufactured for the company.
In addition to a huge selection of seating options, Sit4Less.com works hard to provide ergonomic office and work space accessories, so that student potential is maximized. Ergonomic principles have been brought to the one element that was just sitting there, the desk. Herman Miller's Envelop desk is the first desk designed to help the user, the chair, the computer all work together for better health and comfort. Envelop is the first desk that moves with you! Of course the smaller features of an ergonomic workspace are not to be overlooked. Consider the M2 Monitor Arm, which allows the user to adjust and reposition the monitor quickly and easily, ensuring each user can work in ideal ergonomic conditions. Or the Switch Mouse by Humanscle; a revolutionary mousing solution. This peripheral device boosts comfort and reduces injury risks through a number of new innovations. Its V-shaped base and four-way scrolling dish complement a built-in palm support for exceptional user comfort.
In the blog Adventures in Gradland, the author describes their experience with the wrong desk chair. "I've been suffering from some pretty intense back pain for the past three days, and I think I know the cause – my crappy desk chair. So I thought I'd send out a warning to anyone who spends a large amount of time at a desk: do not skimp on your chair!"
As the new school year approaches, consider adding an ergonomic chair and desk accessories to the list of must haves. At Sit4Less.com we are confident of the difference a good chair and good ergonomics can make!
Sit4Less.com seeks to be the leading source for the most desirable ergonomic seating and accessories found in global Fortune 500 companies and delivers them to the home and small office customer – For Less.
###