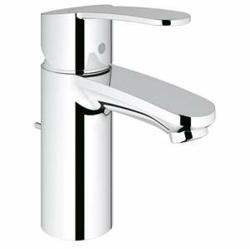 North Berwick, ME (PRWEB) July 30, 2011
PLFixtures has recently added over 200 Decolav vanities to their online inventory. The Grohe Eurostyle Cosmo bathroom faucet collection adds a transitional style suitable for any bathroom. The Peerless faucet line adds an affordable line of kitchen faucets and bathroom faucets that are all backed by Delta Faucet with their famous Lifetime Warranty.
Grohe Faucet company and PLFixture's faucet supplier have teamed up to offer the Grohe Eurostyle Cosmo faucet collection to E-commerce companies only. These faucets are not available in showrooms. These nine lavatory and shower faucets offer consumers the world famous quality and lifelong reliability of Grohe at an affordable price. Where a bathroom lavatory sink faucet is required, there are the single hole faucets 23036 & 23042 in Grohe Starlight Chrome finish. For widespread lavatory faucet requirements, Grohe is offering the Cosmo 20209. The single handle tub & shower faucet offerings are the models 35023 and the 35025 which use the Grohe universal pressure balance valve 35015.
Some features of the faucets are:
Smooth, precise action of Grohe Silkmove ceramic technology for lifelong, effortless water control
GROHE WaterCare - 30 Percent Water Savings
Stainless Steel Braided Flexible Supplies
Quick Installation System
Flow rate: 1.5 G.P.M
ADA Compliant
See all of the Grohe Cosmo Faucets at PLFixtures
Decolav Vanities have solid wood legs and frame.
Decolav modular bathroom vanities make it possible to decorate a bathroom with a combination of a modular base, vanity top and lavatory or vessel from Decolav's collections. Decolav's modular bathroom furniture will allow a home owner or interior designer to address the projects requirements while creating a very functional design with storage and matching cabinets. With a baker's dozen vanity collections to choose from, there is a style for all tastes. Home owners, interior designers and architects will love these vanity, vanity top and lavatory combinations for their ease in styling a complete bathroom.
Decolav Vanities and Glass Lavatories
When a project calls for a reliable, durable and attractive line of faucets, Peerless faucets from Masco Corp. of Indiana, the owner of the Delta Faucet Company, is a cost effective choice.
Peerless faucets are not discount faucets.
Peerless faucets are covered by the Delta Faucet Lifetime warranty. Whether replacing one faucet, all the faucets in a residential building, or as a builder or contractor doing a commercial project, project managers can be assured there will always be warranty support and repair parts available, just as there are with Delta Faucets.
Buy Peerless Faucets at PLFixtures
Large project? At PLFixtures there are quantity discounts available for 50 or more items (of the same model) of any Grohe, Delta or Peerless faucet. Just contact PLFixtures for a quote.
###