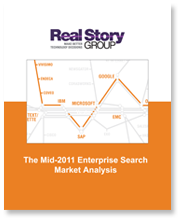 The enterprise search market can be described (at best) as "slow moving"
Washington, DC (PRWEB) July 30, 2011
The Real Story Group's Mid-2011 Enterprise Search Market Analysis is now available as a free download to qualified federal government agencies. This Advisory Paper gives a mid-year enterprise search market update, as well as a direct comparison of enterprise search vendors' strengths & weaknesses. It is a great way for government agencies with search content management needs to stay up-to-date on vendors in motion and to follow where a product stands or is headed. Download the Mid-2011 Enterprise Search Market Analysis Advisory Paper here.
An excerpt from The Mid-2011 Enterprise Search Market Analysis:
"As of 2011, the search market has been dominated by three big names, Google, Microsoft, and Lucene. The Google Search Appliance continues to sell well at the departmental level within organizations, though clearly there is a greater understanding of the Appliance's limitations than there had been in previous years. Microsoft (via its dominance with Office and SharePoint) has become the de facto search application for many back-office needs, and Lucene has become ubiquitous as an embedded search engine in many products and applications.
Compounding all of this is the fact that the enterprise search market can be described (at best) as "slow moving." Although names may change over the years, the underlying technology remains much as it was a decade ago. On the one hand, this is a positive thing, because we have mature, scalable, and well-tested offerings that generally perform well. On the other hand, we have search engines that continue to fall short of end users' expectations, no matter how realistic those expectations are. Many expectations are set in large part by Internet search experiences (via the likes of Google and Bing), which is a very different search paradigm with few of the necessary restrictions or challenges of enterprise search."
The Real Story Group's published research and one-to-one advice can be especially helpful in pinpointing a government agency's strategic direction. The research makes it easy to hone in on technologies that meet the requirements and make sense for use cases and budgets that are common in the federal government. Since The Real Story Group works only for buyers and end users of software, the search technology selection process remains free from vendor influence.
The Real Story Group's Clients include The Federal Reserve, U.S. Department of Homeland Security, U.S. Environmental Protection Agency, National Institutes of Health - The Centers for Disease Control and Prevention, The Library of Congress, The Federal Aviation Administration, U.S. Patent and Trademark Office, and NASA.
Contact The Real Story Group:
Thomas J. Mattera | Client Executive | Real Story Group
P: US 617.340.6464 ext. 121 | E: tmattera(at)realstorygroup(dot)com
http://www.realstorygroup.com - technology research, vendor evaluations, strategic advisory services
###