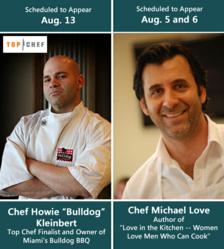 Why not celebrate something we all love, like barbeque, with some smokin-hot fun?
Orlando, FL (PRWEB) July 28, 2011
A visit to Orlando August 5 to 7 and 12 to 14 is brought to you by the Letter Q… as in BBQ! O-town visitors will enjoy a heapin' helpin' of barbeque and some finger-lickin' fun, as Hilton Orlando Bonnet Creek hosts the first-ever Barbeque Weekends, a quirky celebration of rhythm, brews and barbeque!
The special August weekends, part of the resort's season-long SummerBlast! promotion, will feature a schedule of activities and events themed around summer barbeque, including the Smokin' Hot Barbeque Buffet and scheduled appearances on Aug. 13 by Top Chef finalist (and BBQ aficionado) Howie "Bulldog" Kleinberg of Miami, owner of Bulldog BBQ, named one of the hottest new BBQ restaurants in the nation by Bon Appétit magazine. On the first weekend, Aug. 5 and 6, Michael Love, barbeque pro and author of "Love In The Kitchen – Women Love Men Who Can Cook," is scheduled to appear. In addition, Orlando's "hot list" barbeque entrepreneur John Rivers, owner of 4Rivers Smokehouse, will make an appearance Aug. 6, with his signature sauces in tow.
"Summer has become synonymous with barbeque," said Tracy Walker, general manager of Hilton Orlando Bonnet Creek. "And why not celebrate something we all love with some smokin-hot fun?"
Guests visiting the hotel during these Barbeque Weekends will have an opportunity dine on barbeque and participate in barbeque-themed events, including:

The Smokin' Hot Barbeque Buffet – A sizzlin' barbeque buffet from our illustrious "Bonnet Creek Q Crew," serving a heaping helpin' of beef brisket, pulled pork, barbeque sides and delightful dessert from the Dutch oven! Barbeque will be served Friday from 3-9 p.m., Saturday from noon – 9 p.m., and Sunday from Noon – 3 p.m. BBQ plates will be sold for around $12-$14 (depending on selections). Kids' plate, for children 12 and under, will be $8.
The "Beer-B-Q" Station – an opportunity to sample the latest ice-cold Florida brews from the Florida Beer Company. The Hilton lounges and pool bar will also up the ante, with an exceptional barbeque-themed cocktail menu.
Live Entertainment on Saturday afternoon – nothing goes better with barbeque than rhythm and brews!
Bonnet Creek Summer Show-down – an opportunity to vote on your favorite culinary creations of our talented team of chefs from Hilton Orlando Bonnet Creek and Waldorf Astoria® Orlando. Featuring a Chili Cook-Off on Aug. 5-6, and Baked Beans Cook-Off on Aug. 12-13. Complimentary Cook-Off tastings will be held 4-8 p.m. on Friday and Noon – 2 p.m. on Saturday.
Barbeque Demonstrations – Learn more about barbeque from our team of chefs, and well-know barbeque aficionados. Scheduled demonstrations include Top Chef Finalist Howie "Bulldog" Kleinberg and Master of the Kitchen Michael Love.
Summer Activities – Special "BBQ themed" activities for kids will include a "Squeaky Pig Toss," "Pigs in a Blanket Relay," and other fun games. In addition, guests can enjoy their favorite SummerBlast! activities and events, including a DUCKTONA 500, a zany rubber duck race in our lazy river; a Just Dance 3 dance-off; Dive-in Movies; and our SummerBlast! Saturday pool party (featuring Radio Disney), where one guest will win an iPod loaded with the latest hits.
Just Dance® 3 -- Hilton Orlando Bonnet Creek is the first public venue where Just Dance enthusiasts can play the highly-anticipated third installment of Just Dance 3 video game prior to its U.S. release on all video game consoles on October 11, 2011. Just Dance 3 Preview Weekends will be held at the resort on August 6 and August 13.
In honor of this special program, Hilton Orlando Bonnet Creek is offering a summer bonus offer: a free one-day one-park Walt Disney World theme park ticket for every two nights a guest stays under the "SummerBlast! Disney Ticket Package." (See http://www.hiltonbonnetcreek.com/summer for complete details). In addition, the resort is offering "Kids Eat Free" at Harvest Bistro, for breakfast and dinner (up to two child entrées with every paid adult entrée).
To make a reservation, please visit http://www.hiltonbonnetcreek.com, or call +1 888 353 2013.
Hilton Orlando Bonnet Creek offers the best of both worlds: a convenient "insider" location accessible from within Walt Disney World property and the peaceful serenity of the surrounding 482-acre nature preserve. Resort amenities include 1,000 elegantly appointed rooms and suites, a 3-acre Florida-style lazy-river pool, a Rees Jones-designed championship golf course, a spa by Guerlain, a full fitness center, and nearly a dozen complex-wide dining and lounge options, including the award-winning La Luce by Donna Scala.
About Hilton Hotels & Resorts
One of the most recognized names in the industry, Hilton Hotels & Resorts stands as the stylish, forward thinking global leader in hospitality. From inaugural balls and Hollywood award galas to business events and days to remember, Hilton is where the world makes history, closes the deal, toasts special occasions and gets away from it all. The flagship brand of Hilton Worldwide continues to build upon its legacy of innovation by developing products and services to meet the needs of tomorrow's savvy global travelers while more than 144,000 Team Members shape experiences in which every guest feels cared for, valued and respected. Today, the Hilton Hotels & Resorts portfolio includes more than 540 hotels in 78 countries and the brand remains synonymous with "hotel." Access the latest Hilton news at http://www.hiltonglobalmediacenter.com or begin your journey at http://www.hilton.com. Social media users can engage with Hilton at http://www.twitter.com/hiltononline, http://www.facebook.com/hilton and http://www.youtube.com/hilton. Hilton Hotels & Resorts is one of Hilton Worldwide's ten market-leading brands.
About Hilton Worldwide
Hilton Worldwide is the leading global hospitality company, spanning the lodging sector from luxurious full-service hotels and resorts to extended-stay suites and mid-priced hotels. For 92 years, Hilton Worldwide has been offering business and leisure travelers the finest in accommodations, service, amenities and value. The company is dedicated to continuing its tradition of providing exceptional guest experiences across its global brands. Its brands are comprised of more than 3,750 hotels and 615,000 rooms in 84 countries and include Waldorf Astoria Hotels & Resorts, Conrad Hotels & Resorts, Hilton Hotels & Resorts, DoubleTree by Hilton, Embassy Suites Hotels, Hilton Garden Inn, Hampton Hotels, Homewood Suites by Hilton, Home2 Suites by Hilton and Hilton Grand Vacations. The company also manages the world-class guest reward program Hilton HHonors®. For more information about the company, visit http://www.hiltonworldwide.com.
###