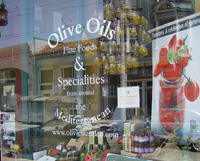 New York, NY (PRWEB) July 29, 2011
With a respect for tradition, O&CO. cherishes originality where tastes and smells converge to delight the senses. Emerging from the high Alpes-de-Haute, in the village of Mane, O&CO. became the brainchild of two men united around a common passion, the olive tree. More than ten years since its creation, O&CO. has forged a new image of the olive tree, rooted in tradition but firmly anchored in the modern world.
O&CO expands this tradition with the opening of its newest store at The Shops of Columbus Circle, in Time Warner Center, New York. Each boutique offers a unique opportunity to explore the Mediterranean lifestyle by tasting the various products and learning about the olive oil's region and artisans who create them. While olive oil serves as the foundation, O&CO. also offers a collection of vinegars, tapenades, spreads, crackers, and sweets as well as an organic skincare range to round out the Mediterranean experience. O&CO. is a destination for your own cooking experience as well as for gifts. Founded in 1996, O&CO.s mission is to provide customer with the finest olive oils and Mediterranean food products in stores and online. Visit the newest location or other boutiques or shop online at http://www.oliviersandco.com.
# # #