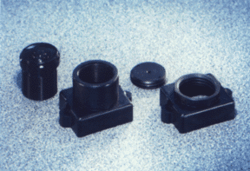 Oyster Bay, NY (PRWEB) July 29, 2011
Universe Kogaku, the lens design and optical lens company has added to its line of C-mount lenses. UKA Optics has come out with two new 25mm CCD lenses for imaging applications in the infrared spectrum. Military applications include target acquisition, surveillance, night vision, and homing and tracking. Non-military uses include thermal efficiency analysis, remote temperature sensing, short-ranged wireless communication, spectroscopy, and weather forecasting.
Available in format coverage of up to16mm with a brightness ratio of 0.95, these lenses provide a cost effective solution for low light imaging and other demanding applications. These lenses are direct design and manufacture to assure quality, performance and delivery.
These lenses are the most recent addition to UKA Optics vast line of quality optical lenses. These new C-mount lenses are available and in stock in the US. They are well suited for forensic, scientific, and other imaging applications. Visit UKAOptics.com to view PDF files of the outline drawing or transmission test results. For pricing or other information, please call 516-624-2444 (in USA) or email info(at)ukaoptics(dot)com.
###