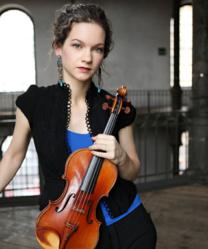 Baltimore, MD (PRWEB) July 28, 2011
Heralding the start of the social season, the Baltimore Symphony Orchestra will hold its annual Celebration Gala on Saturday, September 10 at 8:30 p.m. at the Joseph Meyerhoff Symphony Hall. Led by BSO Music Director Marin Alsop, the Gala concert features Baltimore native and internationally renowned violinist Hilary Hahn performing Mendelssohn's Violin Concerto. Also on the program is Charm, a special BSO commission from David T. Little, capturing the unique and quirky personality of "Charm City." In keeping with the BSO's vision to engage the entire community, members from several choirs from around the region will perform the "Hallelujah Chorus" from Too Hot To Handel, the popular jazzy version of Handel's masterpiece, with artistic direction provided by Peabody Award-winner Leslie Stifelman. Additionally, the OrchKids Bucket Band and Orchestra will collaborate with Hilary Hahn. Please see below for complete program details.
The BSO's Celebration Gala is the organization's largest and most important fundraising event of the year. It raises funds to support the Orchestra's educational outreach programs in Baltimore and throughout Maryland. The Celebration Gala treats patrons to an evening of entertainment and fine dining provided by Classic Catering. Pre- and post-concert gala festivities will take place in a grand event tent located just outside of the Meyerhoff.
Marin Alsop, conductor
Hailed as one of the world's leading conductors for her artistic vision and commitment to accessibility in classical music, Marin Alsop made history with her appointment as the 12th music director of the Baltimore Symphony Orchestra. With her inaugural concerts in September 2007, she became the first woman to head a major American orchestra. She also holds the title of conductor emeritus at the Bournemouth Symphony in the United Kingdom, where she served as the principal conductor from 2002-2008, and is music director of the Cabrillo Festival of Contemporary Music in California.
In 2005, Ms. Alsop was named a MacArthur Fellow, the first conductor ever to receive this prestigious award. In 2007, she was honored with a European Women of Achievement Award, in 2008 she was inducted as a fellow into the American Academy of Arts and Sciences and in 2009 Musical America named her "Conductor of the Year." In November 2010, she was inducted into the Classical Music Hall of Fame. In February 2011, Marin Alsop was named the music director of the Orquestra Sinfônica do estado de São Paulo (OSESP), or the São Paulo State Symphony Orchestra, effective for the 2012-13 season. Ms. Alsop was named to Guardian's Top 100 Women list in March 2011. This spring Marin Alsop was named an Artist in Residence at the Southbank Centre in London, England.
A regular guest conductor with the New York Philharmonic, The Philadelphia Orchestra, London Symphony Orchestra and Los Angeles Philharmonic, Ms. Alsop appears frequently as a guest conductor with the most distinguished orchestras around the world. In addition to her performance activities, she is also an active recording artist with award-winning cycles of Brahms, Barber and Dvořák.
Marin Alsop attended Yale University and received her master's degree from The Juilliard School. In 1989, her conducting career was launched when she won the Koussevitzky Conducting Prize at Tanglewood where she studied with Leonard Bernstein.
Hilary Hahn, violinist
30-year-old violinist Hilary Hahn is a two-time Grammy Award winner celebrated for her probing interpretations, technical brilliance, and spellbinding stage presence. Extensive touring and acclaimed recordings over the past decade and a half have made Hahn one of the most sought-after artists on the international concert circuit.
Hilary Hahn appears regularly with the world's elite orchestras and on the most prestigious recital series in Europe, Asia, Australasia, and North and South America. In the 2010-11 season, Hahn will performed in fifty-six cities across four continents.
In the dozen years since she began recording, Hahn has released eleven feature albums on the Deutsche Grammophon and Sony labels, in addition to three DVDs, an Oscar-nominated movie soundtrack, and more. One of Hahn's recent concerto recordings, which paired Schoenberg and Sibelius, debuted at No. 1 and spent the next twenty-three weeks on the Billboard classical charts. This acclaimed album brought Hahn her second Grammy: the 2009 Award for Best Instrumental Soloist Performance with Orchestra. Her first Grammy win came in 2003 for her Brahms and Stravinsky concerto album.
Hahn is also active on the contemporary classical music scene. In 1999, she premiered and recorded the violin concerto written for her by the American bassist and composer Edgar Meyer, and in 2009 she did the same with Jennifer Higdon's violin concerto, also written for and dedicated to her. A recording of the Pulitzer Prize winning Higdon concerto, paired with the Tchaikovsky violin concerto, was released on Deutsche Grammophon on September 2010.
An avid writer, Hahn posts journal entries and information for musicians and concertgoers on her website (http://www.hilaryhahn.com). In video, she produces a YouTube channel (http://www.youtube.com/hilaryhahnvideos). Elsewhere, her violin case comments on life as a traveling companion, on Twitter (http://www.twitter.com/violincase). Hilary Hahn was born in Lexington, Virginia, in 1979.
David T. Little, Composer
The music of American composer David T. Little has been described as "dramatically wild…rustling, raunchy and eclectic," showing "real imagination" by New York Times critic Anthony Tommasini, and his work "completely gripped" New Yorker critic Alex Ross: "every bad-ass new-music ensemble in the city will want to play him." Little's highly theatrical, often political work draws upon his experience as a rock drummer, and fuses classical and popular idioms to dramatic effect.
His music has been performed throughout the world – including in Dresden, London, Edinburgh, LA, Montreal, and at the Tanglewood, Aspen, MATA and Cabrillo Festivals – by such performers as the London Sinfonietta, eighth blackbird, So Percussion, ensemble courage, Dither, NOW Ensemble, PRISM Quartet, the New World Symphony, American Opera Projects, the New York City Opera, the Grand Rapids Symphony and the Baltimore Symphony Orchestra under Marin Alsop. He has received awards and recognition from The American Academy of Arts and Letters, the Mid Atlantic Arts Foundation, Meet The Composer, BMI, and ASCAP, and has received commissions from Carnegie Hall, the Baltimore Symphony, the Albany Symphony, the New World Symphony, Pittsburgh New Music Ensemble, the University of Michigan, and Dawn Upshaw's Vocal Arts program at the Bard Conservatory.
In 2004, Little founded the amplified octet Newspeak, for which he is also the drummer and artistic director. Little holds degrees from Susquehanna University (2001), The University of Michigan (2002) and Princeton University (2006, PhD completed spring 2011), and his primary teachers have included Osvaldo Golijov, Paul Lansky, Steven Mackey, William Bolcom, and Michael Daugherty. He has taught music in New York City through Carnegie Hall's Musical Connections program, served as the inaugural Digital Composer-in-Residence for the UK-based DilettanteMusic.com, and is currently the Executive Director of New York's MATA Festival.
Leslie Stifelman, artistic director
Peabody Award Winner, Leslie Stifelman is a multi-talented performer and arts & entertainment executive in both non-profit and for-profit arenas, with a diverse career as a music director, conductor, pianist, producer and consultant. She is known for her extensive creative collaborations and partnerships, and is a prolific creator of music education initiatives for children and adults of all ages. Her work spans the world of music through performances, recordings, television and films extending from the concert hall to Broadway, and her projects have been awarded the highest honors in the arts and media including the Peabody®, Grammy® and Tony® Awards. Ms. Stifelman has vast experience in programming, production, and financial management of complex artistic projects and she is a skilled fundraiser, communicator, and innovator.
GALA CELEBRATION
Gala Celebration Concert
Saturday, September 10, 2011 – Joseph Meyerhoff Symphony Hall (JMSH)
The Celebration Gala is a black-tie event.
6:30 p.m.—Gala Celebration, with dining and entertainment—Gala Tent
7:30 p.m.—Doors open for Gala Concert—Joseph Meyerhoff Symphony Hall (JMSH)
8:30 p.m.—Gala Concert featuring violinist Hilary Hahn—JMSH
9:45 p.m.—VIP Post-concert party and desserts with BSO Artists—Gala Tent
Tickets for the Gala Celebration are available individually or in sponsor groups of 10. For more information or to purchase tickets for the Gala Celebration, contact the BSO Development Department at 410.783.8054.
GALA CONCERT
Saturday, September 10, 2011 at 8:30 p.m. – JMSH
The Gala Concert is black-tie optional.
Marin Alsop, conductor
Hilary Hahn, violin
OrchKids Bucket Band and Orchestra
Community Chorus
Copland: Fanfare for the Common Man
Joan Tower: Fanfare for the Uncommon Woman
David T. Little: Charm (BSO Commission)
Mendelssohn: Violin Concerto
Handel, Arr. Christianson/Anderson: "Hallelujah Chorus" from Too Hot To Handel
Tickets for the Gala Concert are $50 and $75 and are available at the BSO Ticket Office, 410.783.8000 or BSOmusic.org. Tickets will go on sale on Monday, August 8, 2011.
###