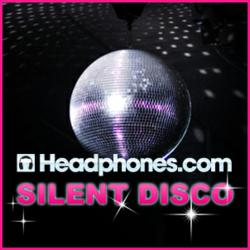 ...listening to good music through bad headphones can be hazardous to your health.
Bridgeport, CT (PRWEB) July 28, 2011
Headphones.com, a NJ based leading internet retailer of headphones sponsored several headphone listening stations and a two evening Silent Disco event at the Gathering of the Vibes Music Festival in Bridgeport, CT.
Gathering of the Vibes, the Northeast's premier music and camping festival featured artists including, Jane's Addiction, Grateful Dead reincarnate Furthur (featuring Phil Lesh and Bob Weir), Elvis Costello, moe., Toots and the Maytals and many more.
A silent disco is a common name for a dance party where people can only hear the music using wireless headphones. Those without the headphones hear no music, providing them with a phenomenon of hundreds of people dancing to no music. The Silent Disco has become a part of the music festival lexicon; and the Vibes first Silent Disco did not disappoint.
The Headphones.com Silent Disco on the Beach was held from 1:00 am to sunrise both Friday and Saturday Nights. More than 1,000 people attended the silent disco on the beach over two days, with DJ sets performed by silent disco pioneers Motion Potion and U9lift.
During the event Headphones.com awarded several prizes including t-shirts, bags, headphones, and four VIP Passes for the Vibes 2012 for the best disco costumes at the event.
It wasn't just about partying however, part of the Headphones.com mission at this festival was to expose concertgoers to a many new brands and types of headphones.
"The response was tremendous" said Headphones.com manager Brian Gluck. "We had a great opportunity to introduce a large amount of music lovers to some new brands, but also to open their eyes as well. Once people experienced the wide spectrum of sound from all of our headphones, they realized they needed a better compliment for their expensive mp3 players than the free earbuds they come with. We believe that listening to good music through bad headphones can be hazardous to your health and tried to share that message so people who are passionate about music, can experience it as it was is meant to be heard."
Powered by dozens of demo units, listening stations were setup in various places throughout the festival with a variety of headphones available for concert-goers to sample. Brands featured included well established players Sennheiser, Audio-Technica and Klipsch. Also showcased were the entire line of SOUL by Ludacris and noise cancelling headphone specialists Able Planet.
For both new & existing headphone enthusiasts, materials from headphone information sites Head-Fi.org, Innerfidelity.com & Stereophile Magazine were on hand as was a representative from Able Planet to help educate visitors about safe music volume, noise cancellation and more.
Throughout the festival hundreds of t-shirts, backpacks, gift cards and earphones were given out to concert-goers in addition to thousands of dollars worth of products from SOUL by Ludacris, Able Planet, Sennheiser, Audio-Technica, Klipsch, Grado and Thinksound.
# # #