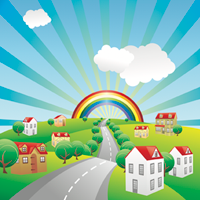 This solves an important problem users have [in trying to connect with other neighbors]
Palo Alto, CA (PRWEB) July 28, 2011
"Go to where the users are" is the war cry of all Internet services on their way to mass adoption, and Yatown is no exception. The local social networking startup today announced it has launched a Facebook app aptly named "Find-Ya-Neighbor". The app allows users to find and connect online with over 85 million neighbors in the US.
"This solves an important problem users have been asking about," said Christopher Nguyen, Yatown CEO. He gave an example, "We hear 'I want to connect with neighbors on my street to organize a Neighborhood Watch, but I don't know how to connect with them online, short of knocking on every door and asking for an email address'."
The Facebook app itself is the model of simplicity. Upon authorizing the app, users are presented with an input box to enter their home address. Within seconds, a phonebook-like directory of their neighbors appear, sorted by distance from home. Neighbors can also be found by name and street. The app does not show the neighbors' contact information directly. Rather, there is a "Connect" button next to each name, which tells Yatown to contact the neighbor on the user's behalf.
Yatown has been relentless with its focus on hyperlocal and usefulness. Recently it launched a Neighborhood Deals service which specializes in discounts and offers right around the corner, like neighborhood restaurants. "We've completed the 'Information' phase of our service rollout, and are now ramping up the 'Social' phase," said Nguyen, adding, "Our users say they love the Yatown Neighborhood News service for bringing them local articles they don't normally find elsewhere, and now we're making it easier for neighbors to connect and interact with one another about these articles."
Yatown, was founded in 2010. With the mission "To Connect Neighbors and Strengthen Communities," the company aims to help neighbors connect and share information online, with an emphasis on trust and social responsibility. Unlike Facebook, LinkedIn, Google+, and other social networking sites, the service focuses on the hyperlocal neighborhood space. Christopher Nguyen is a former engineering director at Google.
###