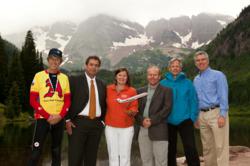 We're delighted by the announcement by American Eagle Airlines of its upcoming service to Aspen/Pitkin County Airport. With three large airline carriers servicing our airport, getting to Aspen has never been easier.
Aspen, CO (PRWEB) July 29, 2011
On Tuesday, July 26, 2011, American Eagle Airlines announced seasonal, daily nonstop flights from Dallas/Fort Worth International Airport and Los Angeles International Airport to Aspen/Pitkin County Airport. The new services will run from December 15, 2011 – April 2, 2012, and again from June 14, 2012 – August 20, 2012.
Stay Aspen Snowmass is delighted by the announcement of American Eagle Airline's new service to Aspen's Sardy Field. With daily, nonstop flights from around the country, getting to Aspen/Snowmass has never been better. The new service will connect Roaring Fork Valley residents and tourists with easy access to American Airline's global network.
Flights for the new routes can be booked as early as August 1, 2011. Stay Aspen Snowmass will incorporate these flights in our Aspen Snowmass vacation packages which include lodging, air transportation, activities, and more. Please contact Stay Aspen Snowmass for more information.
Stay Aspen Snowmass is the official central reservations for Aspen and Snowmass Village. SAS represents all of the Aspen and Snowmass lodging community including hotels, condos, and homes. We offer one-stop shopping for discounted Snowmass and Aspen vacations including air transportation to Aspen, Denver, and Eagle. Our team of local vacation experts live, work, and play in Aspen and Snowmass. We look forward to planning your summer vacation to the Rocky Mountains.
###