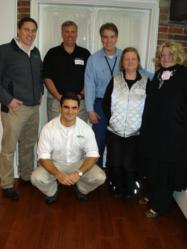 Chicago, IL (PRWEB) July 28, 2011
Priority Energy, LLC, the Chicago-based leader in Energy Efficiency Services and Energy Audit Certification Training, recently performed an energy audit on Hephzibah House, the' safe place' for abused and homeless children in Oak Park. The home, which seemed so solid and sound, was experiencing extremely high utility bills. Wanting to pinpoint the problem areas and 'go green', (which has been Oak Park's continuous effort), Executive Director, Mary Anne Brown, authorized a full home energy audit to be performed on the house. As RESNET and BPI Certified energy auditors, Priority Energy's team was brought in to perform the service. Today, the recommended, cost-saving steps are getting underway, the children are learning what it means to conserve energy and more of Hephzibah's budget can go toward the needs of the kids.
Ms. Brown wanted to learn more about the home's structure and systems and sought to pinpoint exactly where and how they could lower their utility bills. 'Knowing the association relied heavily on donations and grant funding, we were happy to help them find ways to save money,' said Rob Schildgen, owner of Priority Energy, 'we wanted to be sure they were well educated about their efficiency options so they could maximize the return on their improvement efforts. After all, shouldn't their primary focus be on the kids, not on high utility bills?'
'We thought our boiler would be good for another ten years, but we discovered that it was actually near the end of its life,' remarked Michael Murphy, Building & Grounds Manager. Due to the nonprofit funding process, receiving approval for major repairs and getting the money can take time. As a result of the energy audit and their inspection of our boiler, we were able to begin asking for funding before an emergency situation arose and/or the cold weather set in.' Energy audits are the only way to uncover the leaks and flaws that are unseen in a home's structure and systems and will often times be preventative in nature.
What is an energy audit? An energy audit, once implemented, is guaranteed to save customers an average of 40% on annual heating and cooling bills. It involves a review of utility bills, a blower door test and infrared thermal imaging for air leakage and insulation evaluation plus an inspection of the heating and cooling system. Priority Energy's RESNET and BPI Certified HERS Raters prepare a report that outlines where improvements could be made and lists the amount of savings one could expect to see per item.
The Hephzibah House audit was overseen by dedicated volunteer, Rose Marie Reed, who knew the audit process and worked with the staff, the kids, and the Priority Energy team to coordinate the project. Rose Marie has been with the Hephzibah Children's Association for over ten years and has been active in the 'green' initiative for many years, as well. Also important to the project was the WassHale Group, distributors of the Infrared cameras and thermography training, who donated their time and services to the association.
About Hephzibah Children's Association and the Hephzibah House
Hephzibah is a child welfare agency that offers a wide variety of social service programs to children and families. They are a COA accredited agency and are winners of the 101 Best and Brightest Award. For more information or to become a volunteer or a funding donor, please contact Molly Philosophos at 708-649-7100.
About Priority Energy, LLC
Priority Energy is a Nationally Certified RESNET/HERS Rater Training Provider and BPI Training Provider. They are RESNET and BPI Certified Energy Auditors with backgrounds in engineering & building sciences. They provide clients with the knowledge and services they need to conserve energy and create a more comfortable and durable home or business. In 2010, the company audited over 1,000,000 square feet of residential and commercial space. The majority of the Midwest has adopted the IECC 2009 code as the standard requirement for new construction and renovation work. As certified HERS raters they also design, verify and rate these projects.
###