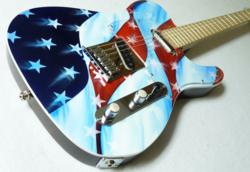 First and foremost, we need to offer virtually limitless custom options so the customer can become the designer.
Cupertino, CA (PRWEB) July 29, 2011
Halo Custom Guitars makes build to order guitars and basses more accessible to the average consumer by improving upon three key factors – custom options, delivery time, and price.
Halo Custom Guitars specializes in build to order electric guitars and basses with an emphasis on putting their customers' needs first. "We've identified three key factors that make the most impact on our customers' buying decisions," stated Jeff Lee, General Manager with Halo Custom Guitars. "First and foremost, we need to offer virtually limitless custom options so the customer can become the designer. Second, the amount of time it takes to order and receive a custom made guitar needs to be within just weeks to a few months. And third… the price! Historically, build to order guitars and basses have been prohibitively expensive for the average consumer. We're proud to offer surprisingly low prices that aggressively compete against standard production, non-customizable guitars."
Like many consumer products, the electric guitar is not a "one-size-fits-all" product. Individuals have different body sizes, tastes, and preferences. These differences create problems for individuals seeking the best guitar for their needs. "By offering customizable sizes and styles of guitars, guitar players are no longer forced to adapt to their instrument. Instead, the instrument is designed to fit their body and its movements, which not only maximizes performance but also reduces potential injury or muscle strain," stated Alvin Gatewood, Quality Control Manager for Halo Custom Guitars. "Customers have the choice of woods, materials, features and functionality. As a result, the Halo Custom Shop is busy fulfilling a broad range of orders from relatively simple designs to cutting-edge, computer-interfacing guitars and basses."
"It's exciting to be part of Halo Custom Guitars as they are really taking custom guitar building to another level," stated Jeff Lee, Halo's General Manager. "The concept of custom made guitars is not new. The difference is in how the Halo Custom Shop streamlines the process. The Halo Custom Shop combines factory-like, mass production techniques with the flexibility of customization to offer highly customized guitars both quickly and affordably. This is in stark contrast to commissioning a luthier (an individual who builds guitars) to produce a similar instrument. Luthiers face many constraints, which often results in custom guitars being too expensive and time consuming for average consumers. The Halo Custom Shop is here to change that".
Musicians interested in learning more about Halo Custom Guitars and its custom made guitars can visit http://www.haloguitars.com/store/Halo-Custom-Shop/ or speak with a Halo Representative at 1-408-873-8606.
About Halo Custom Guitars
Halo Custom Guitars, a front-runner in build-to-order guitar manufacturing, provides fully customizable guitars and basses to consumers worldwide. Halo Custom Guitars offers more custom options, faster delivery, and more affordable pricing than most guitar companies in the U.S. Founded in 2005, Halo Custom Guitars has quickly become the musician's trusted source for professional instruments at affordable factory-direct pricing.
###