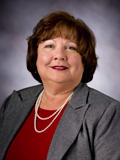 I am honored to once again be a part of Maricopa Community Colleges, the largest district in the nation.
Phoenix, AZ (PRWEB) July 29, 2011
GateWay Community College announces the appointment of Diana Muniz as the new vice president of Student Affairs, effective August 1.
"Muniz has served in several leadership positions within student affairs for nearly 25 years and brings with her the expertise and knowledge required to serve our students and college community," said GateWay President Gene Giovannini.
Muniz is returning to the Maricopa County Community College District after serving as the vice president for student success at Northwest Vista College in San Antonio, Tex., for the past four years. In this role, she provided leadership for judicial affairs, student success initiatives, one-stop welcome center, financial aid and disability services while serving on a variety of task forces related to community outreach.
"I am honored to once again be a part of Maricopa Community Colleges, the largest district in the nation," said Muniz. "I look forward to the opportunity to serve under Dr. Giovannini and work with our students, faculty and staff."
Prior to leaving for Texas, she was the director of Enrollment Services with Chandler Gilbert Community College. In addition, Muniz's experience reaches beyond the student affairs arena, providing a well-rounded approach to higher education. Such positions include, research assistant at the University of Michigan-Ann Arbor and as a counseling faculty member at Pima Community College.
"Although San Antonio is where I was born and raised, I have always considered Arizona as my home, hoping that I would someday return to the wonderful weather and beautiful mountains," said Muniz. "It is with great pleasure and excitement that I am joining the Gateway Community College team and look forward to serve at a college known for its innovation and vision."
Muniz earned her Ph.D. from the University of Michigan, and a master's in social work and a bachelor's in sociology, both from the University of Texas, Austin.
About GateWay Community College
As one of the Maricopa Community Colleges, GateWay Community College is a fully accredited public institution of higher education located in Phoenix. Offering over 100 certificate and associate degree programs in the areas of Business and Information Technology, Health Sciences, Industrial Technology, Nursing and University Transfer, GateWay has emerged as a leading institution to meet the needs of business and industry. Visit http://www.gatewaycc.edu or call 602-286-8000 for more information.
###