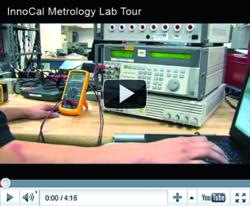 Vernon Hills, IL (PRWEB) July 29, 2011
As an A2LA-accredited laboratory, InnoCal has helped thousands of customers meet ISO, FDA, EPA, GLPs/cGMPs, and other quality standards for more than a decade. Now, with greater capabilities, the metrology lab is offering even more.
"We have expanded our capabilities in calibrating pressure and vacuum instruments, now handling up to 20,000 psi," stated Brandon Wold, Services and Continuous Improvement Manager. "We have also added high temperature capabilities for thermocouples up to 1300ºC."
InnoCal continues to provide calibration services for a large range of equipment: electrical, thermometry, air velocity, flowmeters, humidity, dimensional, and more. InnoCal customers receive some of the most comprehensive NIST-traceable calibration reports in the industry, designed to meet the most stringent quality requirements.
Davis Instruments provides several time-saving options for equipment calibration through InnoCal:
New Instrument Calibrations: When purchasing a new instrument from Davis Instruments, InnoCal can calibrate the item before it is shipped. Purchasers receive the calibrated instrument along with NIST-traceable documentation.
Recalibration Services: Ship an existing instrument to the InnoCal laboratory for regularly scheduled maintenance and recalibration. The instrument is cleaned, calibrated, and quickly returned—with long-form calibration reports—to keep business running smoothly.
On-site services are also available for large volume instrument calibrations. To take a video tour of the InnoCal lab, go to http://www.davis.com/18657. For more information, call 800-358-5525.
Davis Instruments has been one of the world's leading sources of test, measurement, control, and calibration instruments since 1912. With expanding capabilities in industrial spheres such as power and utilities, petrochemicals, aerospace and electronics production, field services, and construction, the organization continues to respond to technological demands. Based in Vernon Hills, Illinois, Davis Instruments is dedicated to providing customers with excellent service and product applications expertise. For more information, contact Davis Instruments, 625 East Bunker Court, Vernon Hills, IL 60061. In the U.S.A. or Canada, call 800-358-5525. International customers, call 847-327-2000. Visit us at http://www.davis.com.
###